Post Offices
Terrington Post Office has moved around the village a number of times as shown on Ordnance Survey maps and from living memory. From Kelly's Directory we can trace the development of communications.
Contents of this page:
Earlier post offices (to about 1900)
The 1856 Ordnance Survey map appears to show the Post Office at the south-west corner of Church Lane.
The 1857 Kelly's Directory lists a Post Office, with Robert Dobson, receiver (letters would have been deliverd to one central point in the village, not delivered to the door). Letters arrived from York at ½ past 8a.m.; dispatched at 5p.m. Malton is the nearest money order office. By 1872, the nearest money order office is at Hovingham, and by 1879 at Hovingham & Welburn. On 1 January 1884, Samuel Wimbush reports: 'Money order office & Post Office Savings Bank opened at Terrington'.
In 1889 there is a Money Order Office, a Savings Bank, and an Annuity & Insurance Office at Terrington with Mrs. Hannah Nash, receiver. Letters arrive from York at 7.40 a.m.; dispatched, 5.25 p.m. The nearest telegraph office is at Hovingham. There is a wall letter box at Ganthorpe, cleared at 5.40 p.m.
The 1891 Ordance Survey appear to show the Post Office next to the Bay Horse pub. This is borne out by the censuses of 1891 and 1901 when Hannah and then Robert Nash, grocer and then postmaster, are next to the Bay Horse Inn, presumably in the property with the oriel window which later became William Leaf, tailor, and then was taken into the pub.
Campaign to ask for a telegraph office (1892-1897)
In March 1892 rector Samuel Wimbush started a campaign to get a telegraph office in Terrington by writing to Sir J Ferguson Bart, Post Master General, to ask for postal telegraph office here without payment. In April he had an interview with a Post Office official about it but in November was forced to write to the Postmaster General a third application for a telegraph office. And he wrote again in March 1893.
With no joy and after some delay, on 8 December 1895, Samuel Wimbush spoke to Mr Fitzwilliam of Wiganthorpe Hall about a telegraph station at Terrington and two days later wrote and signed a memorial to the Duke of Norfolk for a telegraph station here. Henry Howard, the 15th Duke of Norfolk, was Postmaster General from 1895 to 1900. In July 1896 Samuel, Mr Kinnear at Terrington Hall and Mr Fitzwilliam agreed to raise a guarantee of £32 for an office in Terrington.
There still appeared to be no response, and in January 1897, Samuel wrote to the York Postmaster 'to ask for a telegraph, not a telephone' and asked Mr Fitzwilliam to write to the Duke of Norfolk to the same effect.'
At last the lobbying seems to have had an effect. On 7 July 1897 the Terrington telegraph was opened to the public. The first telegram received by it was from Samuel's daughter Eleanor at Derby and his reply to her was the first sent.
The telegraph soon proved its worth. In July 1897 two Bradford children were made ill at Mrs Rhodes by eating laburnum pods and Dr Smeeton was telegraphed. In October 1897 Samuel was summoned home from York by a telegram in the evening to see joiner Goodwill. Unfortunately, a second telegram said it was "too late".
In February 1900 the telegraph was broken by a storm and the church clock stopped.
But good news could also arrive by telegraph. On 5 April 1901 the first child of Samuel's son James and wife Judith was born in Bulawayo (in present Zimbabwe). The next day Judith's father, Sir Douglas Fox, telegraphed to Samuel the message "Son. All well. Wimbush." which he had received from Bulawayo.
More recent post offices (from about 1900)
On 3 October 1901 'the Post Office & Telegraph were moved from Nash's on the south side of the village to Holiday's on the North. Nash retains the Post Office'.
On 22 April 1902, at the Choral Festival in York, Terrington won two first prizes and one second and Samuel duly telegraphed his congratulations to Miss Egerton of Cliff Hall who was choirmaster.
But technology quickly moved on. In October 1904, a telephone was installed at the Post Office to take the place of the telegraph.
A photo from around 1909 shows the Post Office attached to Rose Villa.
The 1913 Kelly's Directory lists a Telephone Call Office, available for calls to places within a limited distance. In 1921 Mrs. Mary Green is sub-postmistress in place of Robert Nash. In 1933 Private telephone numbers are given in Kelly's Directory for the first time. For some reason, in 1937 the Money Order Office seems to have disappeared, with the nearest one being at Welburn. The 1939 Register shows Mary Green, sub-postmistress next door to the Estills at Manor Farm (ie at Old Wells), and this still appears as the location of the post office on the 1953 Ordnance Survey map.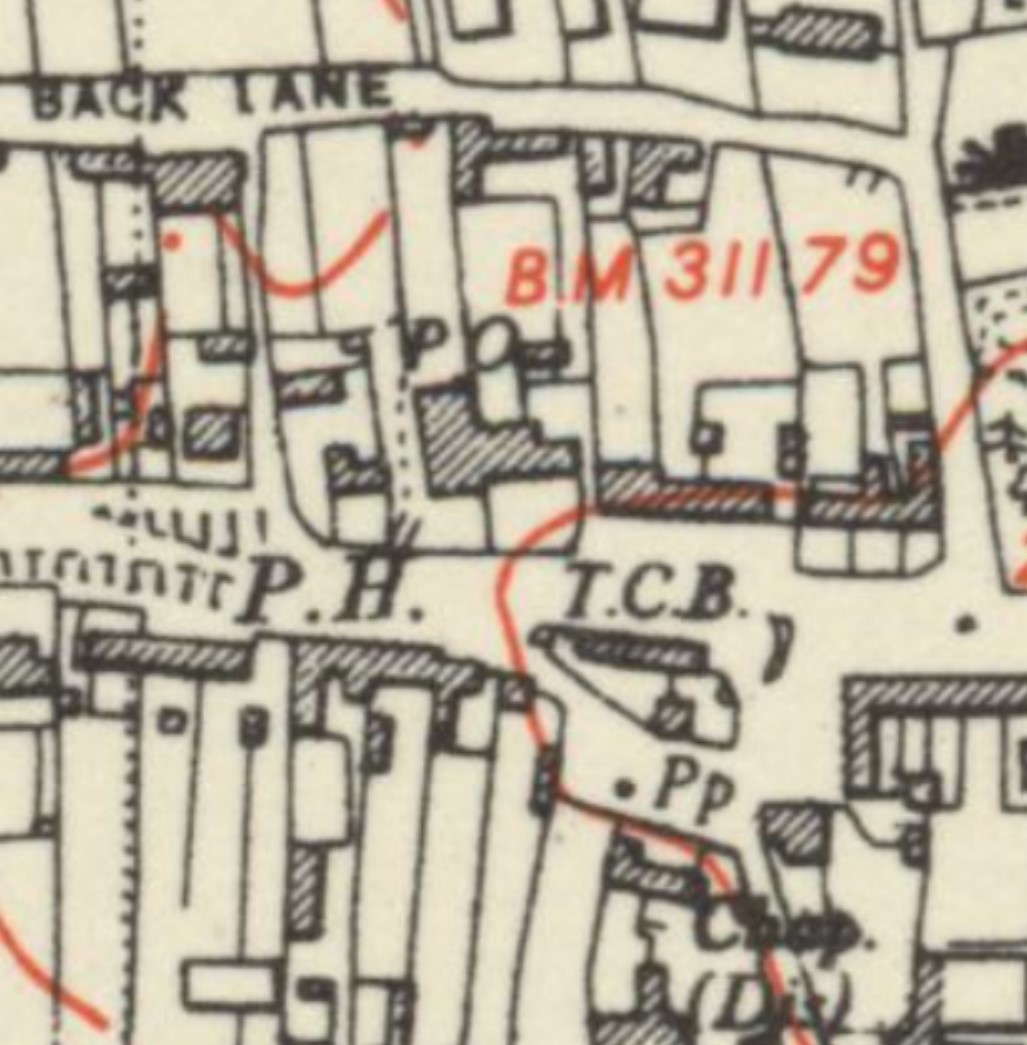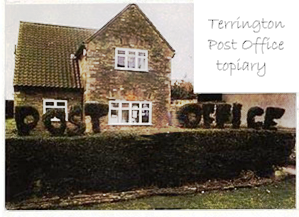 The post office later moved across Main Street to the house now called the Old Post Office which became known for its topiary on the hedge in front.
In 1990s the post office moved into Terrington Store with Kate Hughes as postmistress until the Post Office decided to close this and replace it with the Mobile van in Terrington for an hour or so a day. In 2021, there are post collections in Terrington at 4:00pm on weekdays and 10:30am on Saturdays. Postal deliveries are one per day Monday to Saturday.