Shops
This page contains information from trade directories, censuses, and living memory about some of the shops in the village in the 19th and 20th centuries, under the following headings:
General Stores/Grocers
In the 1851 census there are 4 grocers: John Rhodes, John Nash, Jane Heart, and Ann Goodwill. For the remainder of the 19th century there still seem to be 4 shopkeepers, reducing to 3 for much of the 20th century. The most common names of grocers/shopkeepers are Rhodes, Nash, Goodwill and Goodrick.
Trade directories from 1857 to 1909 list John Rhodes as shopkeeper and often also as a carrier. In 1933 and 1937, Chas. Rhodes is a shopkeeper. Long-term residents of the village remember Rhodes' shop until about 1970 in what is now the garage of Cliffe Cottage on the west side of the Plump.
David Nash is listed as shopkeeper from 1857 to 1879, then Mrs David Nash in 1889. Mrs Hannah Nash then Robert Nash are listed as shopkeeper and post office from 1890 to 1905. In the 1891 and 1901 censuses they are next to the Bay Horse Inn, presumably in the building with the oriel window which later became William Leaf, tailor, and then part of the pub.
In 1889 Goodrick John is shopkeeper, then from 1890 to 1913 Mrs. Elizabeth Goodrick, and from 1921 to 1937 Harry Goodrick. The location of the shop in the 1901 census is the fifth property below the Bay Horse Inn.
In 1879 Robert Goodwill is shopkeeper, in 1890 butcher and grocer, and from 1892 to 1929 a Robert Goodwill is shopkeeper and farmer, in 1905 described as 'Yorkshire ham & bacon curer'.
From 1921 the directories include Castle Howard & District Co-operative Society Limited. This opened in 1919 in what is now High Dene on Main Street and later transferred to the current Terrington Stores.
In the 1933 and 1937 directories and the 1939 Register, Mary A Green is a shopkeeper and has the post office. She is in Old Wells, next door to Estills butchers at Manor Farm.
Other shopkeepers were Richard Race in 1857 and 1872, John Jackson grocer and draper in 1872, and William Smith shopkeeper in 1889.
In 1889 John Crow was shopkeeper in Ganthorpe.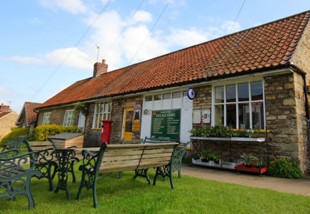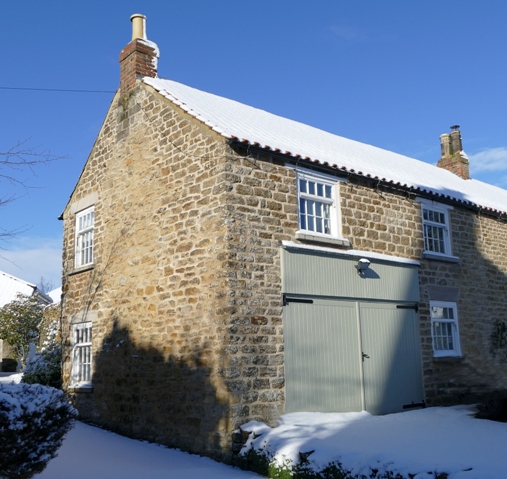 Butchers
From the trade directories, it appears that for much of the 19th century and well into the 20th century, Terrington seems to have had at least 2 butchers.
In 1823 there were 2 butchers, Thomas Bean and John Swan. From at least 1840 for the remainder of the 19th century there was Henry Hood and William Moore, succeeded by (their sons?) William Hood and Robert Moore.
From 1905 to 1937, Robert Goodwill is farmer & butcher. Charles Ward is butcher from 1905 to 1913, then Frank Estill from 1921 to 1929 and then William Estill.
The Moores, Ward, and Estill were at Manor Farm on Main Street. Goodwill's butchers seem to have been located in the current Greystones and Silverstones in The Square.
Tailors and dressmakers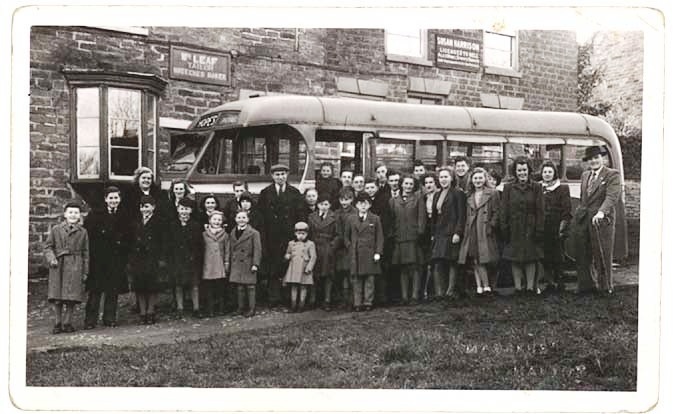 For much of the 19th century, trade directories list 3 or 4 tailors in Terrington: Francis Arnell (at least 1857-1890), William and John Lacy (1823-1913), George and Richard Goodwill (1879-1893), and Thomas Bielby (1889-1909). Ellen Steward was dressmaker from 1857 to 1893.
The censuses show many more people involved in making clothes. In 1841, there are 9 dressmakers, 4 tailors and 2 apprentice tailors. Similar numbers continue, with still 7 dressmakers, 5 tailors and 1 apprentice tailor in 1901, but fall to 3 dressmakers and 1 tailor (Wilfred Bielby, with John Lacy now retired) in 1911.
There are no tailors mentioned in the trade directories from 1921 to 1929, but then we have Fredk. Leaf in 1933 and Wm. K Leaf, tailor & breeches mkr, in 1937. The Leafs occupied the building with the oriel window which later became part of the Bay Horse pub.
Shoemakers & repairers, Bootmakers, Cordwainers
For much of the 19th century, trade directories list 3 or 4 shoemakers in Terrington, down to one in the 20th century: Uriah, John, and Robert Agar (1857-1929), Robert Calvert (1857-1879), William then George Goodwill (1857-1909), John Stewart (1879-1890). In 1937 there is just a boot and shoe repairer by the name of Ward.
The censuses show many more people involved in making shoes. In 1841 there are 8 shoemakers, 2 journeyman shoemakers and 2 apprentice shoemakers. Similar numbers continue through to 1881, then we have 3 shoemakers in 1891, and one only (John Agar) in 1911.
Other shops
From 1872 to 1893, trade directories list Richard Tate, basket maker. Censuses show Tate basketmakers from 1841 to 1891. In 1881, there is a fish dealer living in North Back Lane and a tea dealer living (and born) in Ganthorpe. The 1891 census lists a hawker, a confectioner and a general dealer as 'strangers attending Terrington Feast', all staying in caravans. There are hints in living memory of a wet fish shop in the stone building by the side of Goldie Cottage, at the north end of the path from South Back Lane to The Plump.