Shoemakers Goodwill
Shoemaking was big business in Terrington in the 19th century with a number of families involved in it, including the Goodwills and the Agars. At the high point in the 1870s there were 9 shoemakers in the village which seems to be far more than would be needed to service Terrington alone. This page tells the story of two generations of Goodwill shoemakers followed by a short overview of shoemaking in Terrington. What we know comes from censuses, parish records, trade directories, and personal communications, documents and a family tree from family members.
William Goodwill
William Goodwill was born in Terrington, baptised in 1807, the 4th son of George and Mary Goodwill. George, a joiner and probably a wheelwright, was also born in Terrington and married Mary Goodrick in 1800 when George was 45. George and Mary's oldest son, Thomas, continued the family joinery business, which was carried on through 3 more generations of his descendants down to William Westwood Goodwill, born in 1903.
As he would not be the one to carry on the family business it was decided that William Goodwill would learn another trade. He was apprenticed in 1820 with a shoemaker in Welburn, John Hodgson. He went to live there and the Indenture of his apprenticeship details the strict conditions he was subject to: taverns and ale-houses, dice, cards, bowls, fornication, adultery, and matrimony were all forbidden by the rules though we've no way of knowing whether these were observed or enforced. A full transcription follows the pictures of the Indenture.
It reads as follows:
This Indenture made the twelfth Day of February in the first Year of the Reign of our Sovereign Lord GEORGE the fourth by the Grace of God of the United Kingdom of Great Britain and Ireland, KING, Defender of the Faith, and in the Year of our LORD One Thousand Eight Hundred and twenty BETWEEN John Hodgson of Welburn in the Parish of Bulmer in the North Riding of the County of York Shoemaker of the one Part and William Goodwill of Terrington in the said Riding and County of the other Part; WITNESSETH,
That the said William Goodwill hath of his own Free will and with the Consent of his Father William Goodwill Put and Bound himself Apprentice with the said John Hodgson, and with him after the Manner of an Apprentice to Dwell, Remain and Serve from the Day of the Date of these Presents for, during and until the Term of Seven Years thence next Following be fully Completed and Ended. During all which Term, the said Apprentice his Master well and faithfully shall serve, his Secrets shall keep, his lawful Commands shall do, Fornication or Adultery shall not commit, Hurt or Damage to his said Master shall not do, or Consent to be done, but to his Power shall Let it, and forthwith his said Master thereof warn: Taverns or Ale-houses he shall not Haunt or Frequent, unless it be about his Masters Business there to be done : At Dice, Cards, Tables, Bowls, or any other unlawful Games he shall not Play : the Goods of his said Master shall not Waste nor them Lend, or give to any Person without his Masters Licence : Matrimony within the said Term shall not contract, nor from his Masters at any time absent himself; but as a true and Faithful Apprentice shall order and behave himself towards his said Master and all, as well in Words as in Deeds during the said Term : and a true and just Account of all his said Masters Goods, Chattels, and Money committed to his Charge, or which shall come to his Hands, faithfully he shall give at all Times when thereunto required by his said Master his Executors, Administrators, or Assigns. AND the said John Hodgson for himself, his Executors, Administrators, and Assigns, doth Covenant, Promise, and Grant by these Presents, to and with the said William Goodwill his apprentice, That he the said John Hodgson his Executors, Administrators, or Assigns, shall and will Teach, Learn, and Inform him to be Taught, Learned and Informed in the Trade, Mystery or Art of a Shoemaker which the the[sic] said Master –now useth, after the best Manner of Knowledge that he or they may or can, with all Circumstances thereunto belonging : And also, shall find, and provide, to and for him: the said Apprentice, sufficient and enough of Meat Drink Washing and Lodging and also Shoes and Aprons suitable for such an Apprentice during the said Term.
And for the true performance of All and Singular the Covenants and Agreements aforesaid, each of the Parties aforesaid doth bind himself unto the other firmly by these Presents. In Witness whereof, the Parties above-named to these present Indentures, interchangeably have set their Hands and Seals the Day and Year above-written.
Sealed and Delivered, (being first duly stamped)
in the presence of
John Hodgson
William Goodwill
George Goodwill
[3 seals indicated here]
William Blake
John Coverdale
After his 7-year apprenticeship, William went to work with Thomas Micklewood at Askham Richard, probably as journeyman shoemaker. (A journeyman was a qualified craftsman who could work for a master craftsman or on his own, but was not allowed to employ others.) Matrimony, at least, was now allowed: he married Thomas's daughter Hannah Micklewood, born in Askham Richard, and their son George Goodwill was baptised in 1831 in Askham Richard, and daughter Mary was born in 1834.
By November 1835 William and family were in Terrington as the receipt for payment of £1.10s for half a year's rent paid by William to the Earl of Carlisle dated 23rd November 1835 shows. Son George, in his turn became a shoemaker, and in 1851 was living at home, aged 19, and was apprenticed to his father. Was he under the same strict conditions as his father had been?
The censuses show that the family lived in End Cottage next to the present rectory at the east end of the village. His workshop would probably have been the small building attached to End Cottage.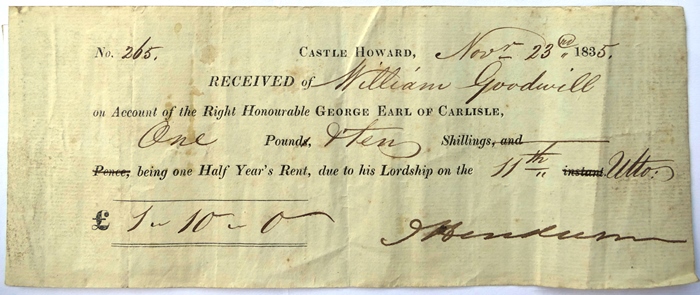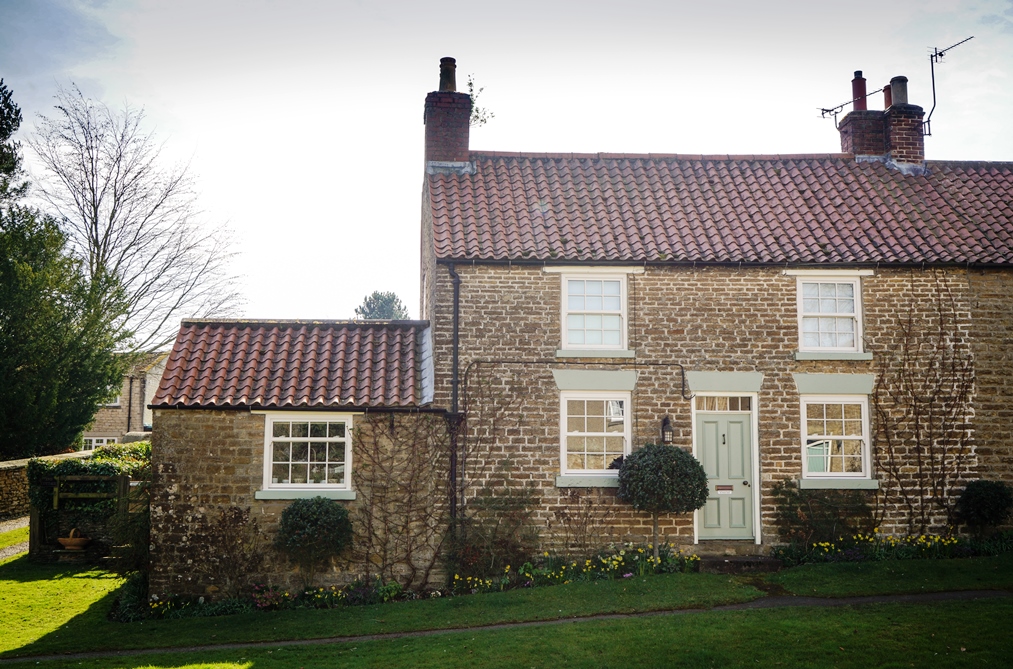 William died in 1885, aged 78. Did he ever retire?
George Goodwill
By 1861 was George was himself a qualified shoemaker but still living with his parents. In 1863 he married Fanny (also known as Frances) Firbank, born March 1830 in Terrington, the daughter of John Firbank, blacksmith, who lived and worked in the Forge, next door to the Black Bull inn, on the site of School House and the present Village School.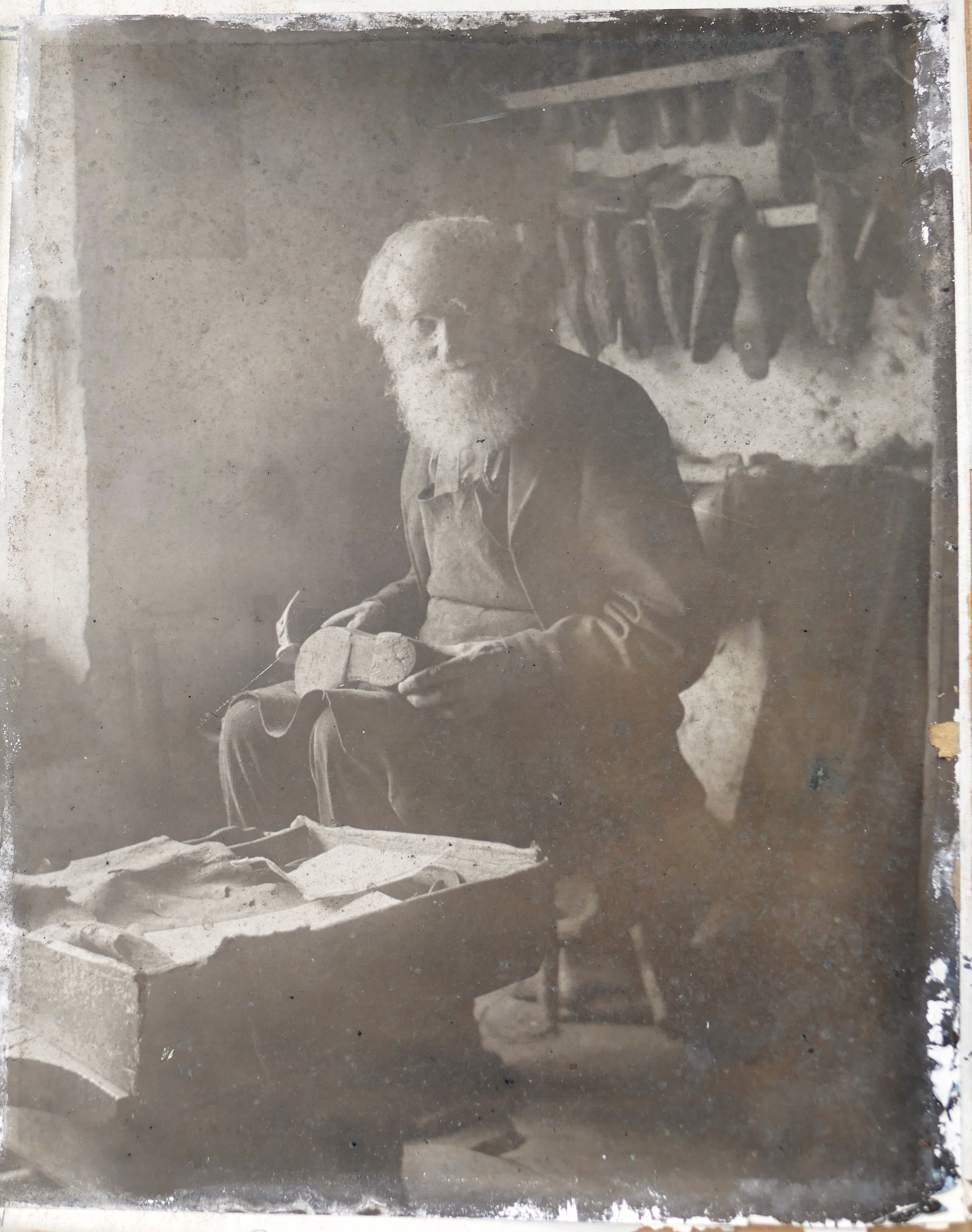 In 1871 George and Fanny were living in their own house which seems to be on the opposite side of Main Street from William's house, and had two children, Mary Kezia aged 6 and Hannah Frances aged 3. They moved again, and in 1881, they are in North Back Lane with son John, aged 9. Mary Kezia by this time was a kitchenmaid at the Rectory in Nunnington while Hannah Frances was living with her widowed Firbank grandmother.
Following William's death in 1885, George and his wife moved into William's house with George's mother Hannah and son John William, aged 19, who was by then a mason apprentice. Apparently, John William had for a time been apprenticed to his father as a shoemaker, before becoming a mason. He succeeded in his chosen trade, going on to build a number of houses in Terrington, a business continued by his sons Sam and George Brough Goodwill.
Hannah died in 1893, aged 81.
The photo shows George ('Shoemaker Goodwill' as he was known in the village) in his workshop. On the wall are his lasts, each presumably for one of his customers in the village.
In 1901, George is described as a bootmaker and his wife Frances is blind, and daughters Mary Kezia, 36, and Hannah Frances, 33, are both at home. Hannah had gone on from Terrington School to train as a teacher and by this time was assistant school mistress at Terrington, a position she was to hold for a number of years. Mary Kezia became a cook. Around 1920 she was in service in Gloucestershire. Neither daughter ever married.
Frances died in 1907, aged 77, and George in 1913, aged 82, having retired a few years earlier. Hannah Frances and John William feature in James Wimbush's 1933 photographs of villagers.
George Goodwill's notebook
George kept a rather sporadic book of notes (perhaps best described as a commonplace book) in a copy of Homer's Odyssey, in ancient Greek, bought in a sale of rector Charles Hall's books, following his death in 1865. George wrote on blank pages and stuck newspaper cuttings on a variety of topics over the Greek text. The contents are summarised below but click George Goodwill's notebook to see the full book.
Some of the entries relate to family and business matters, such as the dates of birth and death of family members, pages headed 'Wages' which seem to record receipts, and balances of Savings Bank accounts. There are details of a loan of £70 in 1866 made by George to his father William and of the interest of 4% per annum added and repayments made. It seems to have been paid off in 1870. In 1908 he notes that John bought Mr Kinnear's 'piana'.
In 1894 he notes a sharp rise in the rates: 'Rateable value used to be for over 50 years £4.5s. In the year 1894 they made it rose to £5.5s. £1 rise'. This was the year in which parish and rural district councils were created.
One entry says that 'Wm Goodwill bought cottage and orchard at Ampleforth for £84, plus £4.10s. for writing, and £163.15s.5d. for building new'. This is undated though there is an entry for 1894 on same page. In 14 July 1898 he 'paid for bricks and tiles for back houses at Ampleforth cottages'. There is also an undated newspaper cutting relating to his property in Ampleforth:
ARREARS OF RENT - George Goodwill, shoemaker of Terrington, made a claim of £1.12s.4d. of Mary Passman, a widow, living at Ampleforth. From the plaintiff's statement he could not get the defendant out of the cottage nor the balance of rent due. The defendant admitted owing the money, and said that she could not find a cottage elsewhere. – Verdict for the plaintiff, and an order was made that the defendant give up possession of the cottage not later than the Saturday following at noon.
There are many references to extreme weather (apparently not a recent phenomenon): storms, very great winds, very dry, very windy, snow, and on 16th August 1877 'lightening struck a tree on Plump and pealed part of the bark of it'.
There a number of receipts (recipes) for various ailments: 'rhuematics', influenza, a bad cough, inflammation of eyes, erysipelas, for 'dirrea or disentry of the bowels'.
A number of entries refer to the working of his small-holding: cutting grass and stacking it, harvesting potatoes, getting swarms of bees, selling a fat calf for £5.5s being 5 weeks and 3 days old, buying a pig.
George clearly felt that the wall between his plot and the rectory built in 1869-70 was unfairly positioned: 'The garden wall between our garden and Mr Wimbush is a party wall give and take which Mr Wimbush got considerably more land than Earl Carlisle.' Next page: 'Mr Satterthwaite [the Earl's agent] was unfair to Earl Carlisle in the wall between our garden wall and Mr Wimbush.'
Newspaper cuttings of cover topics of local and wider interest. Locally we can read about the Enclosure of the open fields in Terrington, the beginnings of Terrington Wesleyan Methodist Chapel, cattle plague visiting Terrington in November 1865, Samuel Wimbush's death on 12th June 1908 and sale on 12th August 1908, the purchase of the Wiganthorpe estate by the Fitzwilliams for £100,000, and the proposed demolition of a part of Sheriff Hutton Castle. There were tragedies too: on 31st August 1899 'Richard Tate hung himself in his own kitchen' and 'Robert Goodwill Earl Carlisle Head Waggoner was killed on the 30th October 1895 with the Market Cart throwing over onto him on the oblisk hill'.
More widely, we read about the Boer War, accidents at Tyne Dock, longevity in Malton district, that the word 'girl' only appears once in the Bible, the largest landowners in the country, and a husband who sold his wife.
Other shoemakers in Terrington
The Goodwills were not the only shoemakers in Terrington. Three generations of Agars spanned almost a century. Uriah Agar, born in Brandsby or Stearsby in 1796, was a shoemaker in Terrington from before 1841 until 1871 and died in 1876 aged 80. Uriah's son Robert and Thomas Clifford were apprentices and journeymen with Uriah and became shoemakers themselves, and Robert's son, John also became a shoemaker.
In 1841 and 1851 George Shepherd was shoemaker in Ganthorpe and Thomas Marton shoemaker in Terrington with journeymen Joseph Sherd in 1841 and Alfred Lollin in 1851.
The high point of shoemaking in Terrington was in 1871 when there were 9 shoemakers or cordwainers: Uriah and Robert Agar, Robert Calvert, Thomas Clifford, Charles Gage, William and George Goodwill, Thomas Beilby and William Smith, plus Hannah Goodwill shoe binder. Charles Gage and William Smith were from Terrington, though William later moved to Stillington. Robert Calvert was from Hovingham and Thomas Beilby from Thornton Marishes, newly married and here for a time with his parents-in-law.
Gradually the number dwindled, as they died and no new shoemakers were trained. When John Agar died in 1929 he was the last shoemaker in Terrington, though in the 1937 Kelly's Directory there is a shoe and boot repairer by the name of Ward. What happened to all their lasts?
Victorian Shoemakers' tools
These photographs were taken at the Lanman Museum at Framlingham Castle, Suffolk and are used by kind permission of the museum.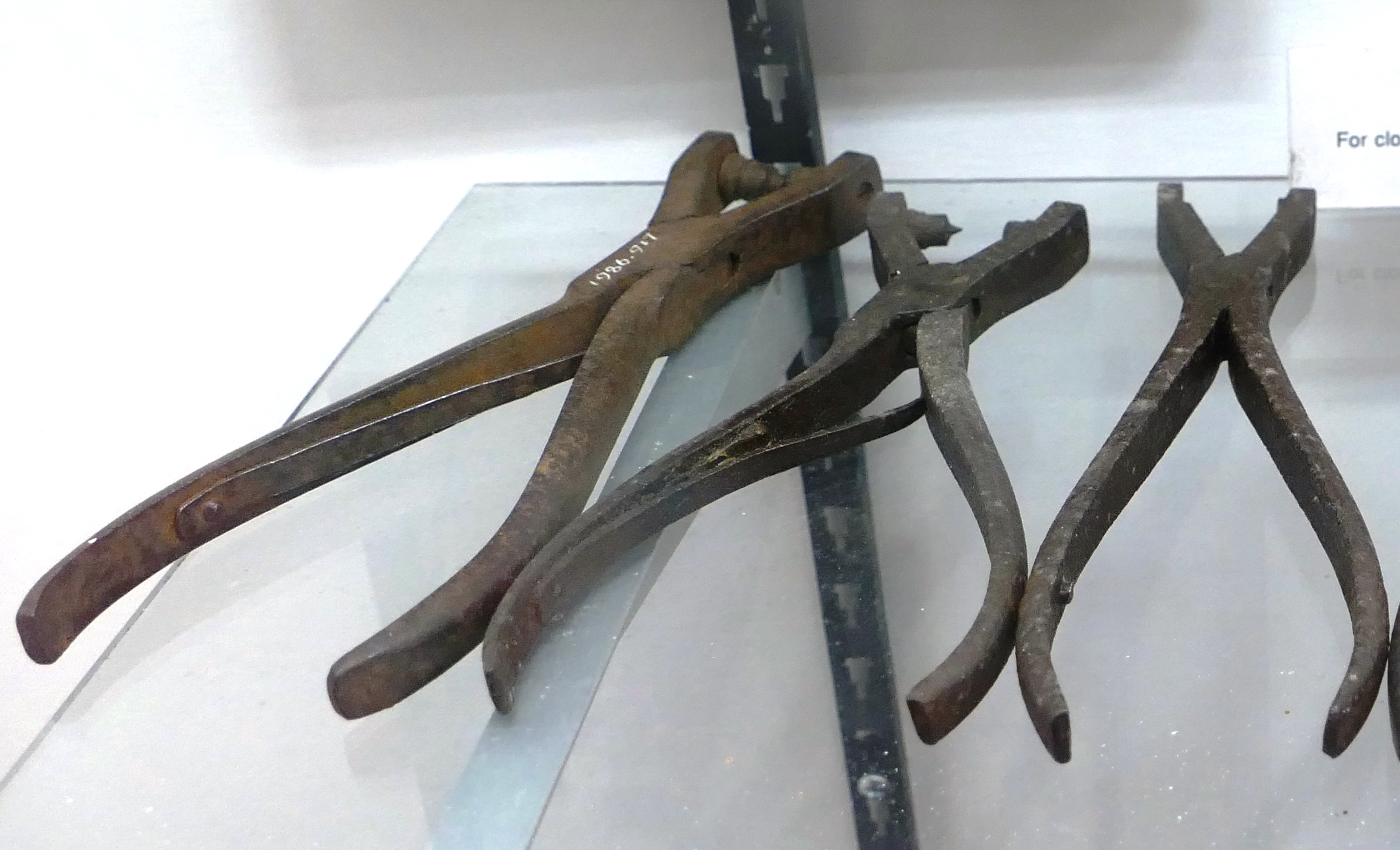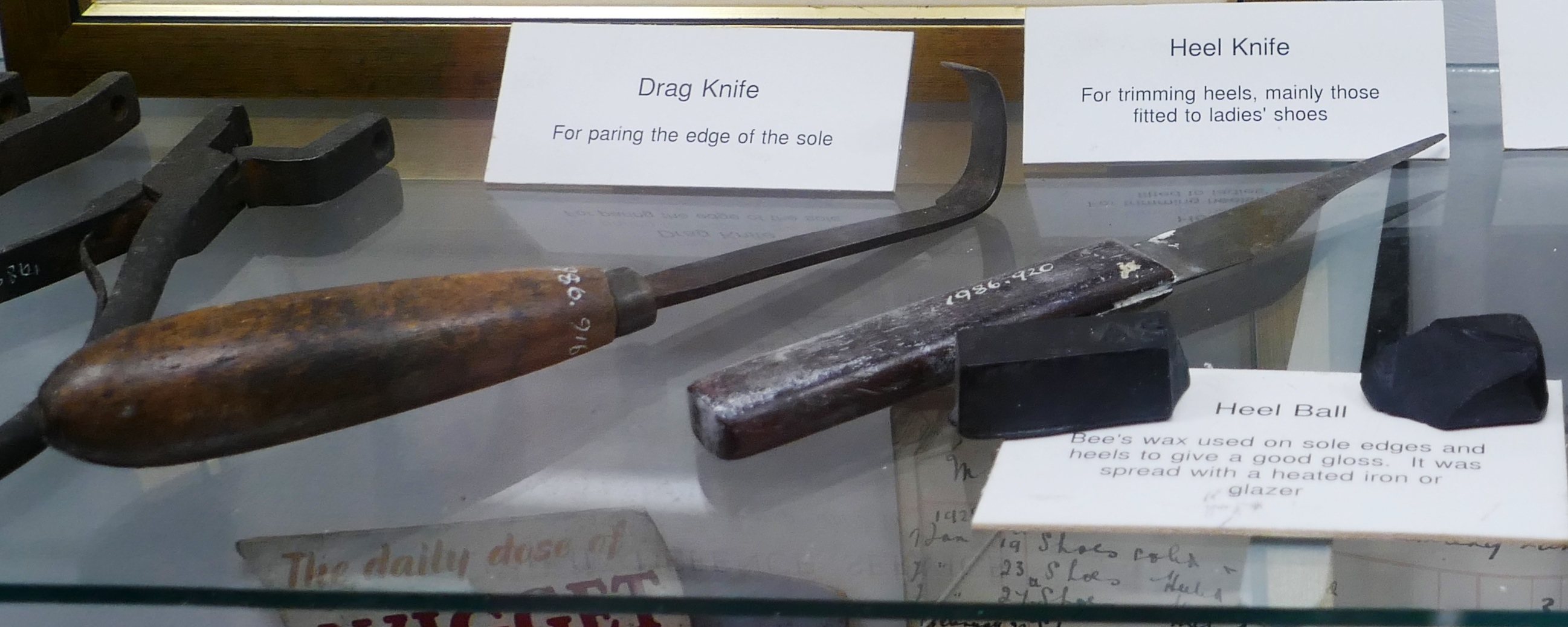 Appendix: some exact dates
George Goodwill was baptised at Terrington on 6th April 1755 and married Mary Goodrick on 4th October 1800.
William Goodwill was baptised at Terrington on 15th February 1807.
George Goodwill was baptised at Askham Richard on 30th May 1831.
William died on 24 March 1885, aged 78 and Hannah died on 6 January 1893, aged 81.
Frances died on 8th December 1907, aged 77, and George on 30th December 1913.