Cliff Hall and The Lodge
The main house is variously called Cliff or Cliffe Hall or House, or just The Cliff or The Cliffe. For many years The Lodge was under the same ownership as the Hall.
The various phases of occupation of Cliff Hall are dealt with on this page:
Captain Potter (to 1868)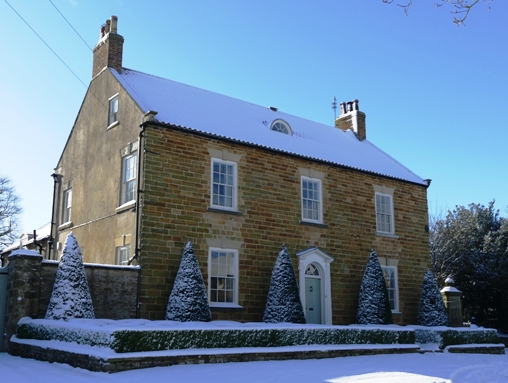 A Castle Howard estate map of 1867 shows the land in the area of the present Lodge, as well as other land in Terrington, owned by Capt Potter. The 1851 census lists John Potter, Landed Proprietor, aged 34, unmarried, with 2 servants (Housekeeper Anne Heffell and Groom Thomas Blakey), born in Terrington. No address is given but its position in the census list indicates it was in the area of Cliff Hall or The Lodge.
A report on the Malton Gala in 1860 shows that Captain Potter possessed a spirit of adventure: 'There have been balloon ascents on many occasions during the fifty years. The first was in 1860 by Mr Coxwell, the greatest aeronaut of his time. He took up with him Captain Potter, of Terrington, and Mr Ewbank, of Dalby, and they came down, after a good voyage, at Sherburn.' According to 'The Ryedale Story' by John Rushton, Captain Potter's brigade fired their guns when an oak tree was planted in 1863, but we are not told where this oak tree was or the source of the information.
Terrington churchyard contains a box tomb inscribed: 'JOHN POTTER, only son of THOMAS and MARTHA POTTER who died at Cliff House Terrington on the 18th September 1868, aged 51 years'. His parents are also buried there. In December 1869 the York Herald advertised the sale by auction of 'Cliffe House with orchards, outbuildings etc and 20 acres of grass land, previously occupied by John Potter, deceased'. This Cliff House may have been the present Lodge or a precursor to the present Cliff Hall.
We do not know when The Lodge was built, but from its style it may date from around 1800, possibly built by the Potter family.
The Worsleys (1870 to 1899)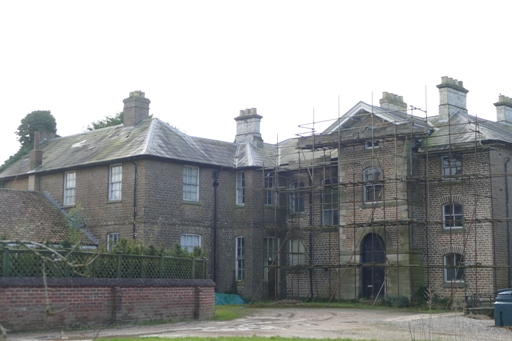 The current Cliff Hall was built in 1870/71 by Marcus Worsley (1794-1878), retired Royal Navy Commander and brother of Sir William Worsley (1792-1879), 1st Bt of Hovingham.
In the 1871 census, Marcus Worsley, 77, his daughter Harriet Philadelphia Worsley (1828-1893) and her husband (and first cousin) William Cayley Worsley (1828-1897), son of Sir William Worsley (1792-1879), 1st Bt of Hovingham, were in Terrington Hall, the former rectory, which Marcus had bought from rector Samuel Wimbush in 1865. Later in 1871 Marcus, and presumably his daughter and son-in-law, moved into the newly-built Cliff Hall. William Cayley became 2nd Bt of Hovingham in 1879 and would then have moved to Hovingham Hall.
The Samuel Wimbush diaries also mention Mrs A Worsley (1832-1893) in Terrington. This was Marianne Christiana Isabella (nee Hely-Hutchinson) Worsley, widow of Arthington Worsley (1830-1861), younger son of Sir William Worsley, 1st Bt.. She may have lived in The Lodge, though she also lived in Scarborough. Her son, William Henry Worsley (1861-1936) became 3rd Bt of Hovingham in 1897.
If you are confused about the relationships between the members of the Worsley family, you can view a family tree here: Show the family tree ... Hide the family tree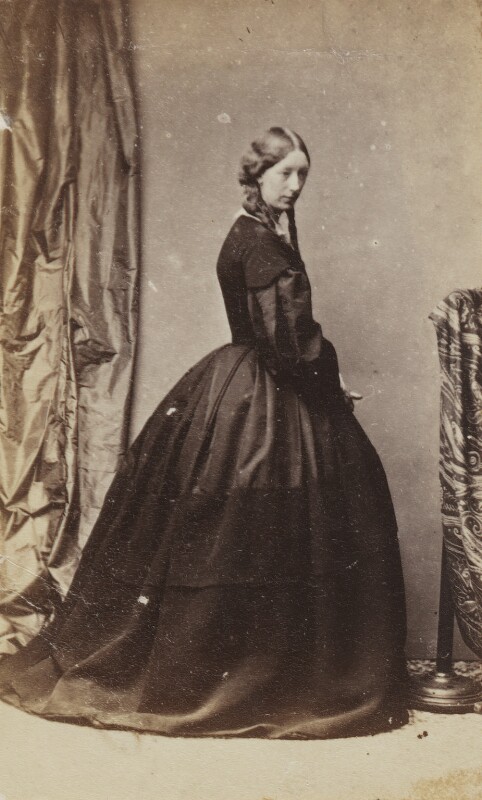 In the 1870s, Samuel Wimbush paid Mrs Arthington Worsley for the reading room, which she presumably owned. In November 1882 the new school master, Mr. Lishman & family, came to live at The Lodge (was he renting it from the Worsleys?), and Samuel then paid Lishman for the Reading Room. This seems to indicate that the Reading Room was in The Lodge or in a building associated with The Lodge.
Both Marcus and Mrs A Worsley generally went to Scarborough in October or November for the winter. On 6 February 1878 Marcus Worsley died at Scarborough.
The Worsleys were closely involved in the goings-on in the village, most prominently in the Battle of the Schools in the late 1880s. One sign of changing times was the creation of Parish Councils to take over some of the functions which were previously the province of the Church. On 4 December 1894, Samuel Wimbush took the chair at the first Parish Meeting to elect Parish Councillors and William Henry Worsley was among those elected. Like the Carlisles, the Worsleys may have been involved in the Temperance movement.
In the 1891 census, Cliff Hall was occupied temporarily by William H W Fitzwilliam aged 50 and living on his own means with his wife Mary G L W Fitzwilliam aged 44. Wiganthorpe Hall, which they had purchased in 1890, was undergoing extensive alterations. In the Lodge were William Henry Arthington Worsley, who was a magistrate, and his wife Augusta Mary Chivers Worsley with childen Winifred, aged 2, and William, aged 1, plus 4 servants.
Events such as amateur theatricals, dances, tea for school children (including, on one accasion, a wonderful ventriloquist from Newcastle), and parish parties were hosted at Cliff Hall. Around Christmas time it was customary for Samuel Wimbush to distribute Mr William Worsley's pound among 8 to 10 persons.
On 11 August 1893 Mrs Arthington Worsley died at Terrington. William Henry Worsley became 3rd Bt of Hovingham in 1897 (which he remained until his death in 1936) and would then have moved to Hovingham Hall and this must have severed the family links with Cliff Hall and The Lodge. His son, William, went on to captain the Yorkshire cricket team in 1928 and 1929 after some controversy over the choice of captain, became 4th Bt in 1936 until his death in 1973, and opened Cliff Hall as Terrington Village Hall in 1954.
Mary Egerton (1899 to 1913)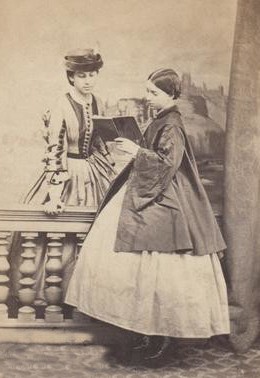 In 1899 Miss Mary Egerton bought the Cliff Estate for £4300. Mary Egerton (1845-1913) was the daughter of the Revd Thomas Egerton (1809-1847), younger brother of William Tatton Egerton, 1st Baron Egerton of Tatton in Cheshire. Thomas Egerton's mother was the daughter of Sir Christopher Sykes, 2nd Bt Sykes of Sledmere. So Mary was closely related to both the Egertons of Tatton and the Sykes of Sledmere in the East Riding. She was more distantly related to the Egerton Dukes of Bridgewater and Earls of Ellesmere.
Mary moved into Cliff Hall from Whitwell Hall at Whitwell-on-the-Hill where she had lived with her mother and sister from around 1883, though her mother died in 1894. In the 1901 census, Mary, 55, is at Cliff Hall with 8 servants, while at the Lodge was William Clifford, gardener's labourer and family. Mary seems to have occupied Cliff Hall with her sister Georgina.
Mary was closely involved in the musical life of the village and the wider area, having previously lived at Aldwarke Hall, now demolished, near Rotherham, where she was foremost in establishing the Rotherham and District Choral Union. According to Mary Wimbush's diary Mary and Mrs Fraser at Ganthorpe House set up the Terrington choir, which won two first prizes and one second prize in 1902 at the Choral Festival in York, prompting telegraphed congratulations from rector Samuel Wimbush. Samuel records in his diary that, on one occasion, when he went to lunch at Cliff Hall, Miss Egerton played her organ - this may be the current Terrington church organ which Georgina presented after Mary's death.
Mary's brother, the diplomat Sir Edwin Egerton seems, at least for a time, to have occupied The Lodge.
In the 1911 census Mary is at Clif Hall with her elder sister Georgina and their cousin Rosamund Strickland Constable. The household included 11 servants, none of whom were from Yorkshire. One of the servants was a chauffeur and The Lodge was occupied by another chauffeur.
The grounds of Cliff Hall included a tennis lawn and croquet lawn, and it was probably Mary Egerton who installed the bowling green for general use. The minutes of a meeting of Terrington Cliff Bowling Club in 1909 show that Miss Mary Egerton was president of the club, a position she held until her death. However, the club goes back earlier than this because the first recorded winner of the Terrington Challenge Cup is in 1904 when it was won by John Goodrick.
Mary died in 1913, aged 67. She never married.
A memorial plaque in Terrington Church reads: 'The Tower of this Church was repaired and the bells rehung in memory of Mary Laura Egerton Born 20 June 1845 died 5 May 1913'. And on the organ: 'To the Glory of God and in memory of Mary Laura Egerton this organ was placed in Terrington Church by her sister Georgina Catherine Egerton May 1914'.
Sir Alfred Lascelles (c1915-1952)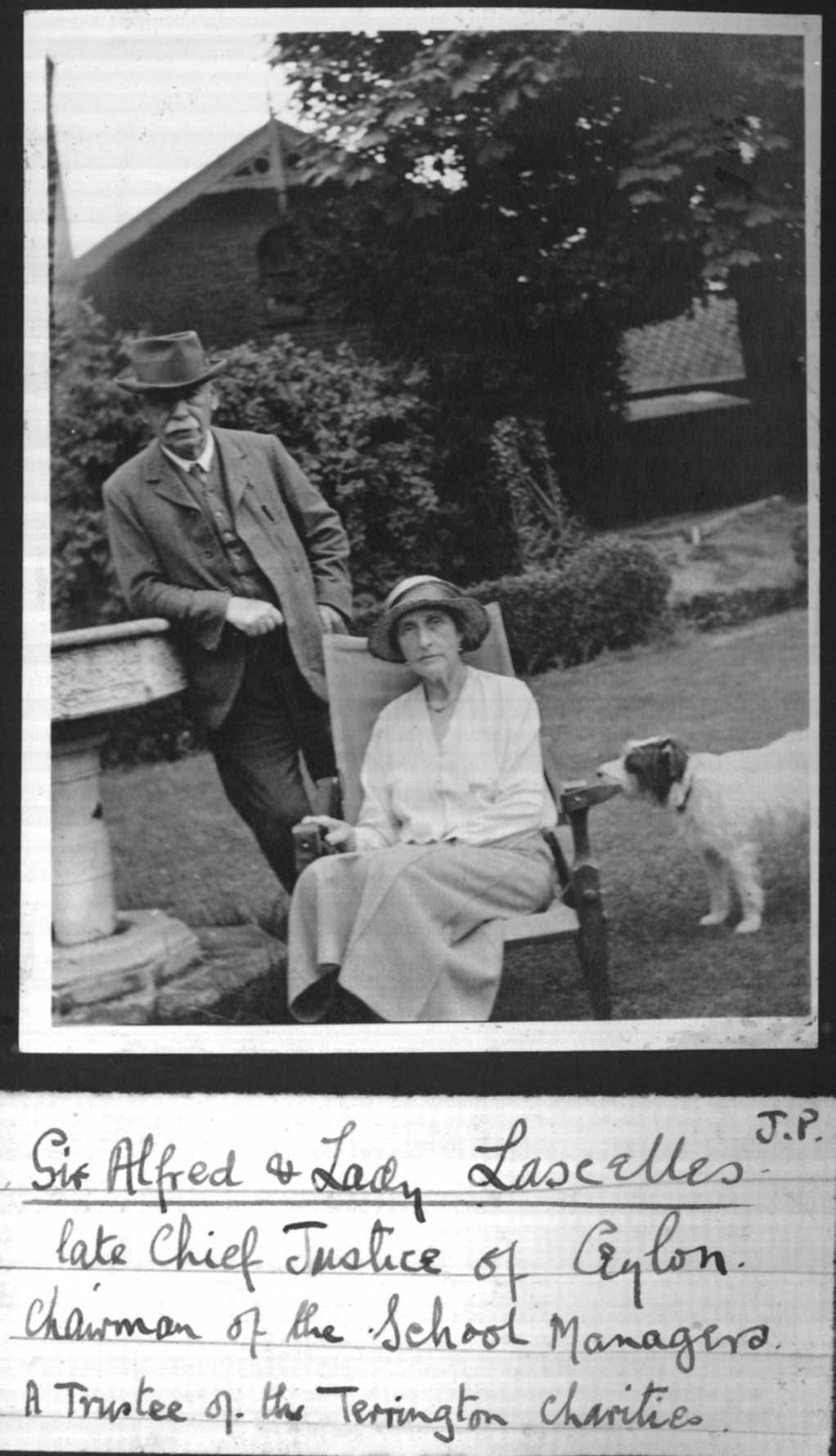 Alfred George Lascelles was the son of Hon. George Edwin Lascelles (a son of the 3rd Earl of Harewood) and his wife Lady Louisa Nina Murray (daughter of the 4th Earl of Mansfield), and was born at Moor Hill, Harewood on 12 October 1857. He graduated from University College, Oxford, with a Bachelor of Arts degree and was admitted to Inner Temple in 1885 entitled to practise as a barrister.
He served as Crown Advocate of Cyprus from 1898 until 1902. In May 1902 he was appointed Attorney General of Ceylon and was Chief Justice of Ceylon in 1906 and from 1911 to 1914. On 26 October 1911 he married Isabel Carteret Thynne. The couple had three daughters and a son; his son Wing Commander Francis Alfred George Lascelles DFC died in 1941 serving with the Royal Air Force. He is commemorated on the World War 2 memorial in Terrington churchyard.
In 1933, James Wimbush captured Sir Alfred and Lady Lascelles, plus their dog (name not given) in his series of photographs of residents and noted that Sir Alfred was chairman of the school managers and a trustee of the Terrington charities. Sir Alfred Lascelles was appointed the President of Terrington Cliff Bowling Club in 1915, a position he held until his death at Terrington on 9 February 1952, aged 94.
The 1937 Kelly's Directory lists Thomas Newton Edwards at The Lodge, but in the 1939 Register there is Frank Edwards (born 1886, Thomas's brother?), Traveller in Cattle Foods, and Caroline Davis (born 1882, their sister), Poultry Farmer. Captain Frank Edwards, son of Thomas Newton Edwards, was killed in World War 2 and his address at the time of death was given as The Lodge. He is commemorated, together with Francis Alfred George Lascelles, on the World War 2 memorial in Terrington churchyard.
1952 onwards
In 1952 Cliff House was bought by Mr PGA Clementson, Head Teacher of Terrington Hall School, and Mr J Robinson. It stood empty for two years until 1954 when the Village Hall Committee bought it and it was opened as the new Village Hall in June 1954 by Sir William Worsley, whose great great uncle, Marcus Worsley, had built it. See the village halls page for more information. Mr Clementson gave the bowling green to Cliff Bowling Club.
A new village hall was built in 1994, leaving Cliff Hall empty for some years ...