Terrington Hall
The various phases of occupation of the house are dealt with on this page:
The Rectory (1827- 1865)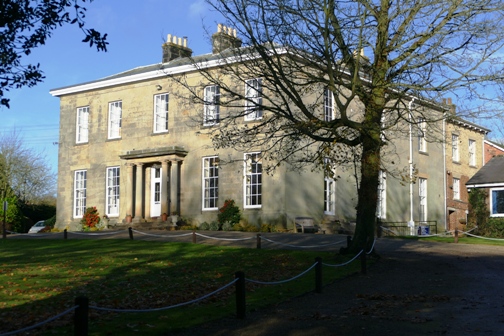 There were probably earlier rectories on the site, such as the one described in the Glebe Terrier of 1760, but the current hall was built by rector Charles Hall in 1827. Nikolaus Pevsner's Yorkshire - The North Riding describes it as follows: 'Five-bay ashlar-faced front, with a porch of two pairs of Tuscan columns. Quite a noble façade.' See Charles Hall on the Rectors and rectories page for more information.
Charles Hall died on 12th December 1864 and Samuel Wimbush was instituted rector on 28 March 1865. He moved into the Hall on 7 April, with his wife Kate and their two boys. Samuel found the rectory to be too big and sold it to Marcus Worsley on 19 October 1865. The family moved out into Rectory Farm on the opposite side of Main Street, until a new and smaller rectory was built. See the Samuel Wimbush page for more information.
Marcus Worsley (1865 – 1871)
In the 1871 census, the Hall was occupied by Marcus Worsley, 77, Retired Commander Royal Navy, with his daughter Harriet Philadelphia Worsley (1828-1893) and her husband (and first cousin) William Cayley Worsley (1828-1897, 2nd Bt of Hovingham from 1879). Marcus's wife Harriet had died in 1858. Later in 1871 Marcus moved into the newly built Cliff Hall. The 1872 Kelly's Directory says that Terrington Hall was still the property of Marcus Worsley, but unoccupied.
Thompsons (1873-1881)
On 14 October 1873 Colonel George Hamilton Thompson came to live at the Hall, which he bought from Marcus Worsley on 27 June 1874, having previously lived at Kirk Hammerton Hall.
George Hamilton Thompson, former Lieutenant in the 1st King's Dragoon Guards, had commanded the East York Militia from 1833 and was appointed Honorary Colonel in 1871. He seems to have occupied the Hall with his wife Anne (from the Maister family of Hull merchants), daughter Isabel Mary born in 1848, and son George Arthur born in 1845 and his wife Dora. George Arthur had been an officer in the 12th Lancers. Dora was the granddaughter of Sir George Cayley, 6th Baronet, 1773-1857, who built the world's first glider capable of carrying a human and Dora had witnessed the first flight in 1853 in Brompton Dale.
The Thompsons became great friends with rector Samuel Wimbush, with frequent references in Samuel's diaries to dining, musical evenings, attending York Gala together, 'tea and Christmas tree at the Thompsons', riding, skating and fishing on the Tweed, and even singing, together. There was, however, an on-going dispute about responsibility for the boundary wall between the Hall and the churchyard. Col Thompson was unhappy that the church terriers included a clause making the Hall responsible. In 1878 the Hall seems to have been extended, as Samuel Wimbush reports going with Mr George Thompson to view the new building.
Crime was clearly not unknown in Terrington at the time: in December 1880 Wilson, Col. Thompson's butler, was attacked by two men in the Hall grounds and robbed of £40.7.9½.
In the 1881 census George Hamilton Thompson, 75, Hon Col East York Militia, his wife Ann, 68, and his daughter Isabel Mary, 32, are at the Hall, with 5 servants. At the time of the census, George A Thompson and wife Dora were with her parents, Sir Digby and Dorothy Cayley, at Brompton by Sawdon, but 5 of their children had been born in Terrington with ages from 1 to 7, including Bertha, aged 4. George and Dora and daughter Bertha were to become big in the Beverley and East Riding Golf Club. Bertha went on to win the British Ladies Open Championship in 1905.
On 19 December 1881 the Thompsons (Col., Mrs. & Miss) left the Hall after 8 years' residence, but in June 1882, Samuel Wimbush 'gave shoemaker Goodwill Miss Thompson's 6/- for ringing tomorrow' and went to Button Hall, Long Marston (where the Thompson's were then living?) to assist at the marriage of Miss Thompson to the Rev'd George Ward of Mavis Enderby, Lincolnshire. (If Mavis Enderby sounds familiar, it may be from 'The Meaning of Liff' by Douglas Adams and John Lloyd where Mavis Enderby is defined as "The almost-completely-forgotten girlfriend from your distant past for whom your wife has a completely irrational jealousy and hatred".)
Colonel Thompson died in March 1886 and Samuel Wimbush went to his funeral in Scarborough. In 1891 George and Dora and children were in Beverley where George was Registrar of Deeds for the East Riding of Yorkshire. George died on 22 November 1908.
Kinnears (1884-1913)
On 22 July 1884 the Kinnears came to live at the Hall from The Abbey at Malton (now a residential home) and were at church the following Sunday.
Thomas John Kinnear was born in 1830 in Walthamstow. In the 1871 census he was described as 'Magistrate, Master of Arts Cambridge, Woollen Manufacturer and Merchant'. He had married his second wife Annie (22 years his junior) in December 1883 in Devon. Daughter Annie was born in Terrington on 7 January 1885, was baptised in the evening but died the following day. Daughter Ida was born in 1888 in St Leonards on Sea, Sussex and went on to marry, in 1915, Anthony Wimbush, born in 1886, the son of Samuel and his second wife, Mary.
The Kinnears became good friends of Samuel Wimbush with mentions of 'tea and tennis', badminton, dining, whist, fishing at Nunnington, skating on Castle Howard lake, Castle Howard Flower Show, York Gala, having photographs taken together by Mary Wimbush, going together to concerts. Mr Kinnear was clearly a very keen fisherman. On several occasions he sent around 20 pounds of salmon from the Tweed to his wife or to the Wimbushes. And he gave Samuel 'a beautiful fishing rod by Hardy of Alnwick'.
The 1891, 1901, and 1911 censuses all record only gardener Thomas Suffield and his family at the Hall. From 1890 they seem to have spent the early months of each year in the south of England or in London. In the 1891 census they are at Littleham, Exmouth, Devon and in 1901 at Brompton, London. In 1906 they spent three months travelling about the Continent. They do not appear in the 1911 census – they are probably abroad.
Mr Kinnear was an ally of Samuel Wimbush in the Battle of the Schools, as well as assisting Samuel in the tasks such as the appointment of teachers, and in the Campaign for a telegraph in Terrington. In 1902 he paid for repairs to the sundial on the church.
Mr Kinnear was also involved in local politics. County councils were created by the Local Government Act 1888, largely taking over the administrative functions of the unelected county courts of quarter sessions. In November 1888 Samuel Wimbush obtained signatures and presented a letter to Mr Kinnear asking him to stand for county councillor. He was elected in the January election. Then civil parish councils were formed in England under the reforming Local Government Act 1894 to take over functions previously the province of the church and the vestry. In December 1894 Samuel Wimbush took the chair at the first Parish Meeting to elect Parish Councillors and Mr Kinnear was one of 5 elected from 11 candidates. In September 1897 Mr Kinnear and Mr William Worsley asked Samuel to be secretary of the Parish Council Committee.
Mr Kinnear died on 1 March 1913 in Bordighera, Imperia, Liguria, Italy. Annie died in 1939 in Somerset, Ida died in 1961 at Taunton and Anthony Wimbush in 1981 in Exeter.
The Hall was still owned by the Thompsons – by George Arthur until his death in 1908, and then by his son G Leonard Thompson of York. In 1920 the Hall was unoccupied.
Terrington Hall School
In 1921, Captain John Lewis Thomas brought his preparatory school for boys from Filey to Terrington Hall, renting the building from G Leonard Thompson, and this was the beginning of Terrington Hall Preparatory School.
In 1925 Capt. Thomas was still at the Hall but by 1929 it was the residence of Henry Bucknell but still the property of G. Leonard Thompson esq. In 1933, Kelly's Directory gives 'Bucknall Harold, Terrington hall'.
In Kelly's Directory 1937 the school is promoted as follows: TERRINGTON HALL PREPARATORY SCHOOL FOR BOYS (T.B. Littlewood M.A., I.A.P.S. head teacher), three hundred feet above sea level; ideal situation; splendid health record; open-air life; abundance of the best food; certified Grade "A" T.T. milk; residents only.
Peter Clementson became headmaster 1938. He bought The Hollies to lodge teachers and Brindle Court which was at one time used for storage. In 1952 he bought Cliff Hall, sold it to the Village Hall Committee in 1954, and gave the bowling green to the Cliff Bowling Club. Several extensions to the building were made and in 1964 the school accommodated 95 pupils. Peter Clementson's monument in Terrington church reads 'PETER GEORGE ALFRED CLEMENTSON (21 June 1912 – 30 December 1981) Headmaster Terrington Hall Preparatory School 1938 – 1977', with the, no doubt carefully chosen, biblical quote 'My son forget not my Law (Proverbs 3.1)'.
In 2016, the school received a visit by a descendant of Charles Hall.