Wiganthorpe Hall
A detailed account entitled Wiganthorpe Hall Descent of Ownership by Dr D M Horgan (opens in a new tab), dated September 2000, giving information on the owners of Wiganthorpe Hall and its estate is available by kind permission of the author.
From the later part of the 16th century Wiganthorpe was owned by the Methams who probably rebuilt the hall in the 17th century but sold it after a number of fines for Catholic recusancy. It was then owned by upwardly-mobile families of York merchants, aldermen and lord mayors such as the Geldarts, Mickethwaites, and Weddells, who were marrying into the gentry and obtaining properties appropriate to what they saw as their rising status in society. It may be that shooting on the estate was also one of its attractions for later owners.
The various phases of occupation of the house from the mid-18th century are dealt with on this page:
William Garforth I (1752 - 1828)
Wiganthorpe, including most of the farmland of Whenby, Scackleton and Skewsby, passed in the 1770s to William Garforth (1752-1828) (the first of several William Garforths associated with Wiganthorpe who we will call William I) whose great-uncle William Garforth (1665-1746), had been Governor of York Merchant Adventurers Company from 1719 to 1721, and had built up a vast fortune.
William I engaged the prestigious architect John Carr (York Assize Courts, Bootham Park Hospital, York Female Prison, Fairfax House in York, Howsham Mill, Harewood House, Constable Burton Hall, and many, many more houses, plus bridges such as the Foss River Bridge at Strensall on the Sheriff Hutton road) to design a new house at Wiganthorpe, to the south of the existing hall, which became the kitchen wing. It was 5 bays wide to the west by 7 bays to the south (ie facing Terrington), in brick with stone facings. It had a fine interior, designed by Carr, of which there are pictures in Lost Houses of North Yorkshire by Edward Waterson and Peter Meadows, 1990.
William I went to Eton and on to Trinity College, Cambridge in 1770, but didn't graduate. He entered the Army and became Captain in the 21st Fusilliers and was later Deputy Lieutenant for the North Riding and in 1818 High Sheriff of Yorkshire.
Three paintings of 1793 by Francis Nicholson show the Hall designed by John Carr.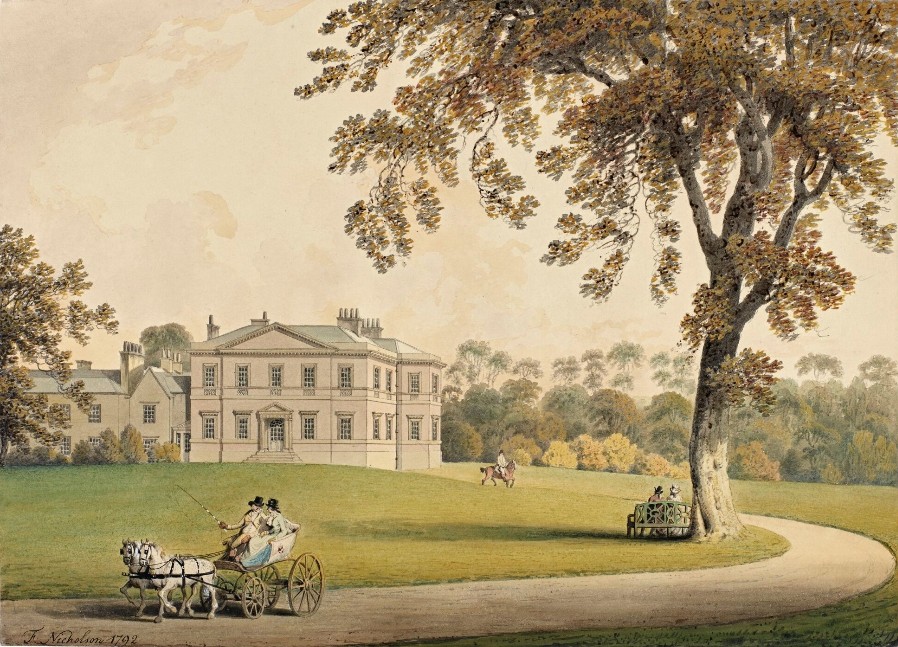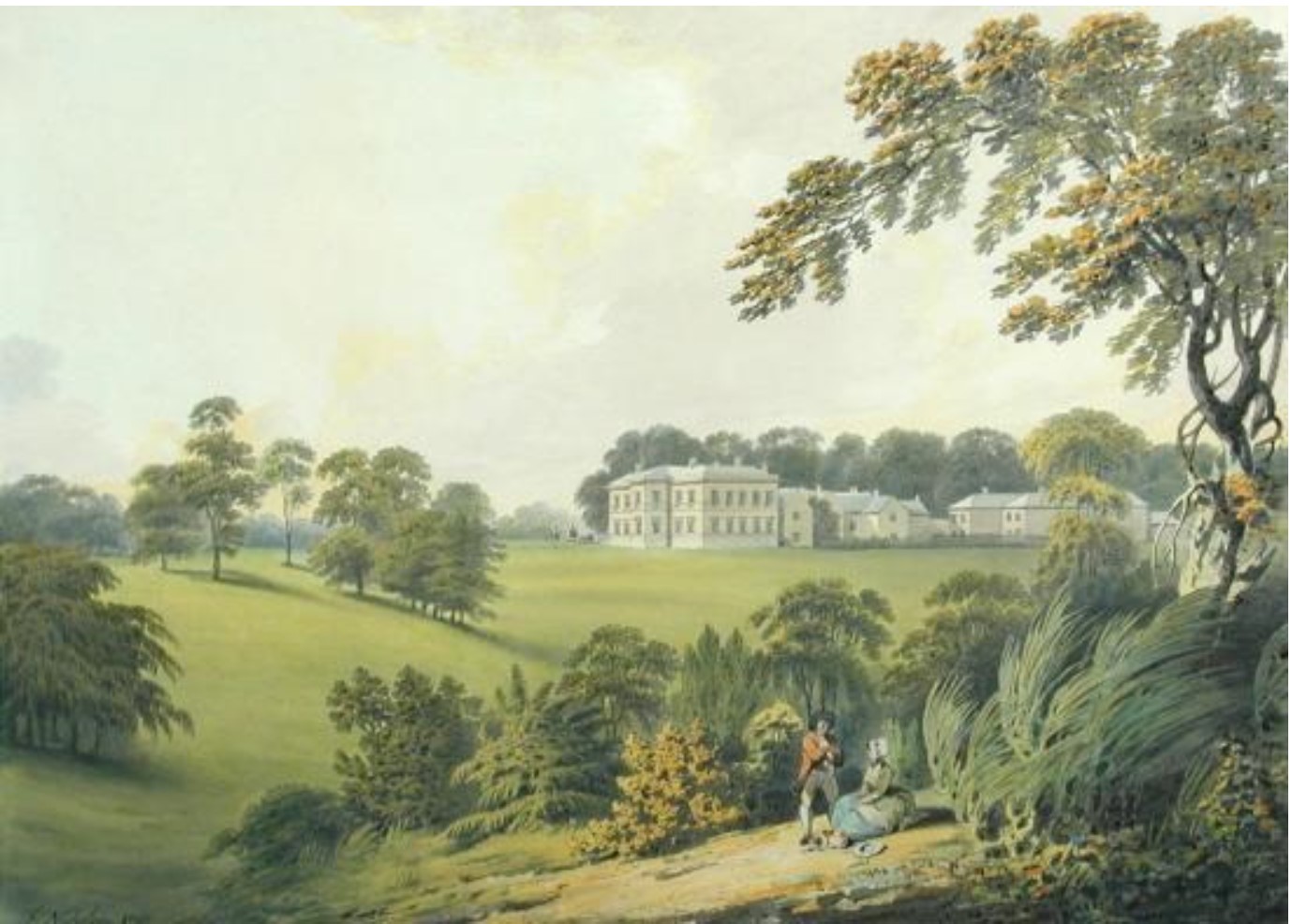 William Garforth II (1795-1870)
Wiganthorpe was inherited by William I's nephew or great nephew, William Garforth (1795-1870) who we will call William II. He became a Captain in the Royal Navy and was into Horse Racing (see page 31).
The wealthy families at Wiganthorpe Hall, Terrington Hall and Cliff Hall were often away, either at their other houses or wintering on the coast, but the 1851 census caught the Garforths at Wiganthorpe: William, Landed Proprietor, aged 55, his wife Louisa (Catherine), aged 45, and two daughters, aged 16 and 19. There were 12 servants of whom only one was born in Terrington - probably servants from other parts of the country are less likely to spread gossip about the family.
Two stained glass windows in Terrington church commemorating William's wife and oldest son and four graves containing William, his wife, his oldest son William III, his oldest daughter, a younger son, and an infant daughter of William III in the churchyard, over a 14 year period up to 1870, tell a tragic tale. Another son of William II shot himself and is buried elsewhere.
The Hall and estate were inherited by William IV, born in 1856, but after such tragedy the family seems to have left Wiganthorpe and the Hall. In 1872 hall was vacant and was then let out to tenants until the Garforths sold it in 1890 (though the family did return to celebrate William IV's 21st birthday in 1877).
Holdens and Illingworths (1872-1880s)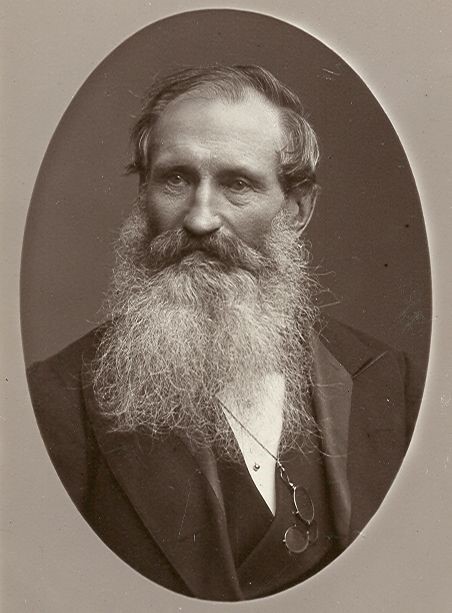 The Hall was rented by Isaac Holden from 1872 to about 1881 from the Garforths. Isaac Holden (1807 – 1897) was an inventor and manufacturer, who developed a wool-combing machine, and became a Radical Liberal Member of Parliament. In 1893, Isaac was knighted and he died in August 1897, aged 90.
Isaac's daughter Margaret married Alfred Illingworth, a Bradford worsted spinner and Liberal politician who succeeded Isaac as MP for Knaresborough, while Isaac's son Angus married Margaret Illingworth and was also an MP and in 1908 became Lord Holden.
Alfred and Margaret Illingworth were certainly at Wiganthorpe but it's not clear whether the 'Mr & Mrs Holden' referred to in the Wimbush diaries were Isaac and his wife Sarah or Angus and Margaret. Samuel Wimbush's diary documents visits to the Holdens and Illingworths for tea or to dine and he was clearly on close terms with them. There are a number of references to shooting together, indicating that this may have been one of the attractions of Wiganthorpe. A number of West Yorkshire nouveaux riches were at the time investing in landed properties which they used for entertaining guests, shooting and hunting, and other forms of recreation.
In the 1881 census the Hall was occupied by Margaret Illingworth, 38, annuitant with 4 sons, aged from 5 to 10, all born in Bradford, plus 2 aunts and 11 servants; the nurse and the housemaid were from Terrington.
After the Holdens and Illingworths left in 1881, there were a number of other tenants before the Garforths sold the Hall.
The Fitzwilliams (1890 - 1921)
In 1890 the Hall was bought by William Henry Wentworth Fitzwilliam (26 December 1840 – 10 July 1920), or perhaps bought for him by his father Earl Fitzwilliam. William Henry Wentworth-FitzWilliam was the second son of William Wentworth-FitzWilliam, 6th Earl FitzWilliam, and had married Lady Mary Grace Louisa, daughter of John Butler, 2nd Marquess of Ormonde, in 1877. He was a Liberal and later, after disagreeing with Gladstone over Irish Home Rule, a Liberal Unionist politician. He was MP at various times between 1868 and 1892 for Wicklow, the West Riding of Yorkshire South, and Doncaster.
The Fitzwilliams immediately embarked on extensive alterations to the Hall. In the 1891 census they were temporarily at Cliff Hall in Terrington (owned by the Worsleys, who were in the Lodge – did they move out of the Hall in favour of the Fitzwilliams?). At Cliff Hall were William Henry, his wife Mary, 3 daughters aged from 8 to 12, and 11 servants, including a German governess. One of the footmen was born in Terrington and three of the other servants in Yorkshire; the others from all over the country. This left just 7 servants behind at the Hall. Again, these had geographically diverse origins, though one was from Skewsby.
On 4th January 1899, there was a fire at the Hall, destroying five rooms. Fire engines came from York and Malton. The family were away, as they were in the 1901 and 1911 censuses. Samuel Wimbush often comments on thin attendance at holy communion in the winter when the gentry classes were away enjoying warmer climes.
There is little evidence of close involvement of the Fitzwilliams with Terrington and they were probably more concerned with developing Scackleton. Samuel Wimbush did, however, enlist the aid of William Henry in the campaign for a telegraph in Terrington and involved him in discussions about Terrington's water supply.
The importance of hunting to the occupants of Wiganthorpe is confirmed by Mr Fitzwilliam asking for some shooting on the Terrington glebe lands (and was offered 320 acres of shooting for £8 a year).
William Henry died in July 1920, aged 79, and Lady Mary died in January 1929, aged 82.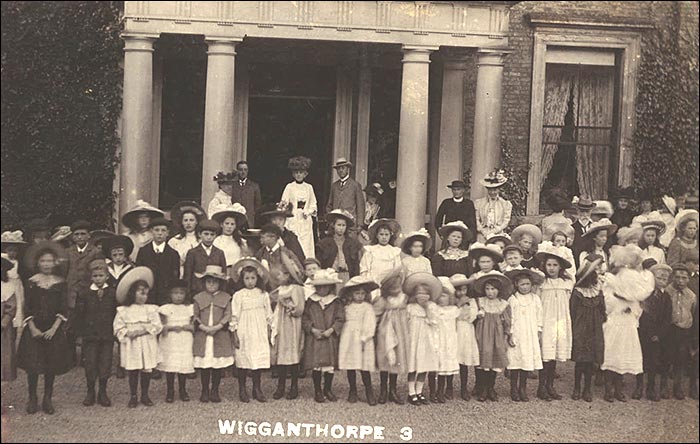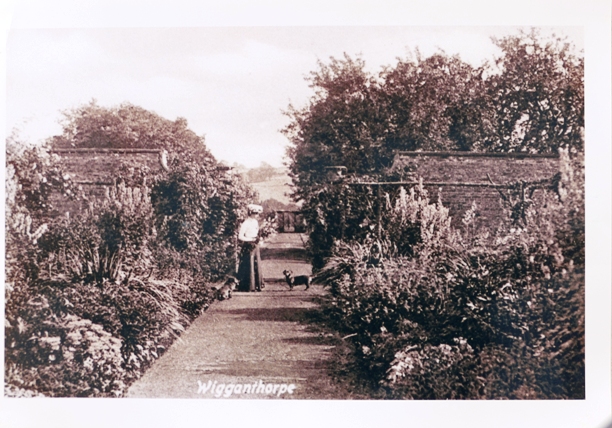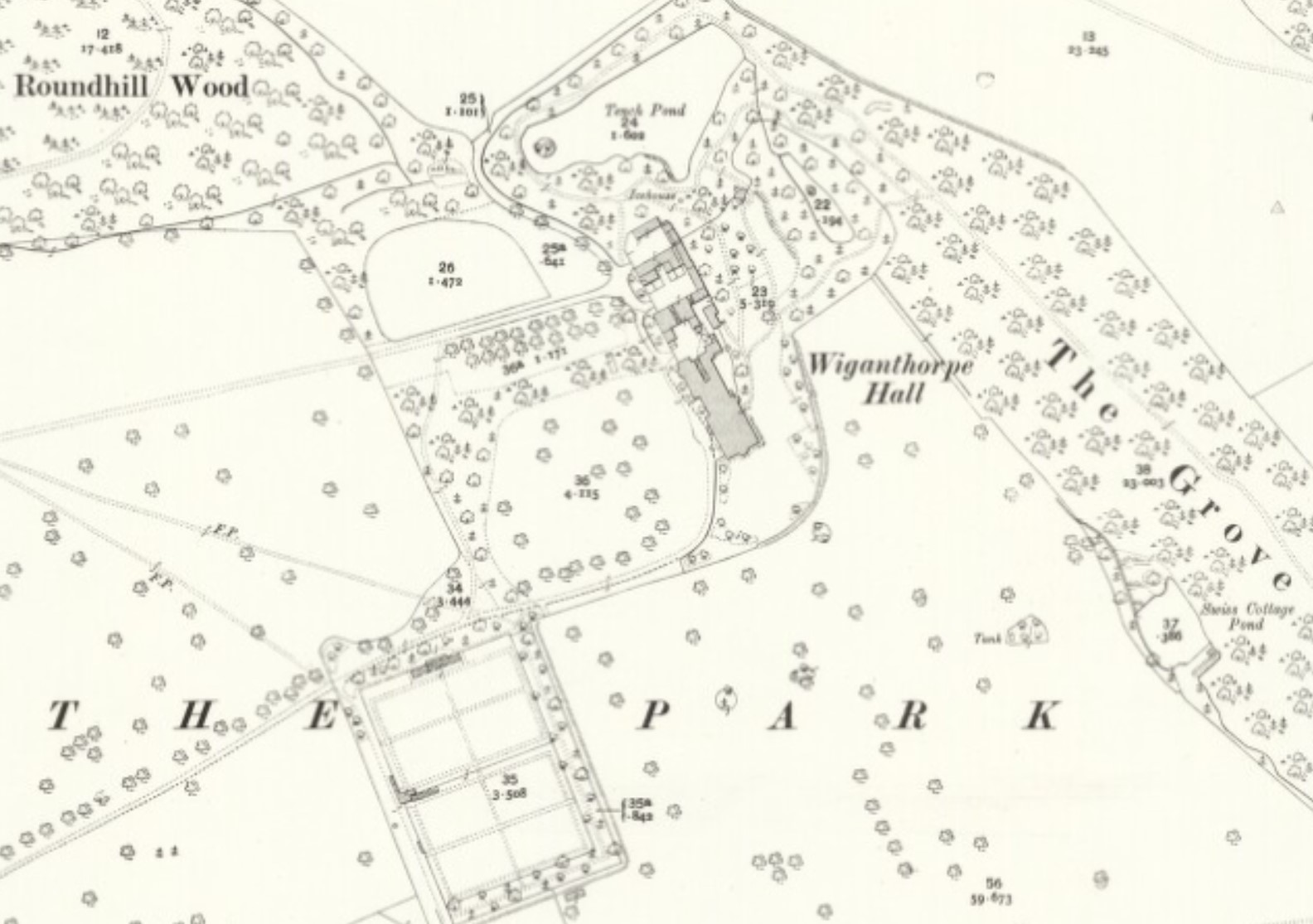 The story from 1921
In 1921 the Hall was sold to Lord Holden of Alston (Ernest Illingworth Holden) who lived there with his second wife Edith and their daughter Diana. Lord Holden was the grandson of Isaac Holden who had rented the Hall in the 1870s and son of Angus and Margaret.
Barbara Spencer, the daughter of the rector of Terrington, remembered the family as terribly rich people and very generous, who employed a lot of servants and gardeners and had a very big vegetable garden. The servants were all in uniform and 'when you went to dinner there you had these people standing behind your chair, I was absolutely petrified! They wore red tail coats'.
Lord Holden, his wife Edith, and daughter Diana were there when James Wimbush took his series of photographs of residents in 1933. His butler Mr Jeeves (yes, really) and his wife were also photographed.
Lord Holden died in 1937. He had two sons from a previous marriage who had sometimes visited the hall, the elder of whom succeeded him as Lord Holden and briefly served in the Labour administration of Clement Attlee in 1950.
Sometime later the estate was sold and split up. In 1953 the Hall was bought by a speculator and sold to a breaker for £6000. The Carr part of the house was demolished in 1955, the fine staircase being moved to Sharow Hall near Ripon. In aerial photograph below the footprint of the demolished building is visible in the grass.
Some of the outbuildings were occupied for a time by a pig farm before the coach house, stables and outbuildings were converted to residential units, and an extension built to the south wing of the hall. An ice house still exists in the grounds.