The full transcript of the interview with Tom Shipley follows, running to 20 or so printed pages. You can select below one of a number of topics if you would like to pick out discussion of that particular topic. Also below are lists of names and places which occur in the transcript so you can search for any you are interested in.
Good evening, Mr Shipley.
Good evening.
---
Can I start by asking when and where you were born?
Yes, it was Crossfield Farm at Stittenham, near Bulmer, in 1921.
---
So Stittenham is between Thornton-le-Clay and Terrington?
Er, no – between Sheriff Hutton and Bulmer actually, on the main road. The house I was actually born in was right on the top of Stittenham Bank. There's Stittenham Bank, then Bulmer Bank on the other side and the house was on the roadside. Crossfield Farm.
---
Still there?
Still there, yes.
---
I think I know the one you mean, yes. So you told me before when you moved into Terrington – when did you say that was?
1929. My second brother had left school in 1928 and so my father thought he ought to have a bigger farm so he was looking round and settled on Rose Cottage so we moved there in April 1929.
---
Do you have any memories of the day you moved?
I do, yes. (laughs) I actually moved with this brother of mine. Well, he was only fourteen at the time and he was in charge of a horse and cart loaded with furniture and I was with him.
---
And which way did you go? You didn't go down Bulmer Bank, did you?
We did! From what I remember we had to have an extra horse to pull the cart up Bulmer Bank and then we were on our way. I remember I used to ride a bit and then walk a bit as well and we eventually arrived.
---
There wouldn't have been many removal lorries in those days. Most things would be done with a horse and cart, I would think.
Yes, well everything was done by horse and cart, yes. I remember it was the first time I had ever been on that particular road and I remember the first time coming into the bottom of Terrington village and walking up the village.
---
Was that the first time you'd been to Terrington?
That's the first time I'd ever been there. And I'd no idea where we were actually going to! My parents had been to Rose Cottage a few times, looking round, and my eldest brother and sister had stayed there for a week or two prior to that. My brother was ploughing, getting the land ready, and my elder sister was there to look after him and we ended up at Rose Cottage. As they'd come home there was always a lot of tales about what the house was like, what the district was like, the lake at the bottom, it was all interesting what we were going to.
---
So you were looking forward to the move?
I was looking forward to it, yes.
---
It's a bit bigger place than Stittenham, isn't it, Terrington? There were a few shops there, I expect?
Well there was a shop at Bulmer, just the same, but I think we were as much isolated at Rose Cottage as we were at Stittenham. Anyway, we arrived there.
---
So you would be about eight?
I was seven – eight the following month, in the May.
---
And your brothers and sisters? How old would they be?
Well I was the youngest of the family. My eldest sister would be … well she was about fifteen years older than me – that's right, she had her 21st birthday just before we left Stittenham. I had two brothers and four sisters altogether.
---
And your dad was a farmer? Was he from a family of farmers?
Yes.
---
And had they always farmed at Stittenham before?
No. Well his father was at Thornton le Clay. The family had been at Thornton le Clay for quite a long time.
---
Right. Whereabouts there, then?
Well, grandfather lived at the Mill House in Thornton le Clay. And Gower House Farm, and he used to run thrashing machines. Two of my father's brothers ran the machines.
---
And these were the ones that were mobile?
The mobile ones that used to run round the farms in winter doing the thrashing.
---
Right, and how did they transport those?
Pulled with steam engines.
---
So they had a steam engine as well?
They had two steam engines, yes.
---
Did he actually use the mill at Thorton le Clay?
Yes, my grandfather did. He would be the last person to use the mill, yes.
---
So roughly when do you think that would be?
Oh, I don't really know. He died in 1917 and that was before I was born. I've no idea what last date he would use it, but he would be the last man to use it.
---
It would be during the last century?
Well probably the early part of the 1900s, I would imagine he would be using it. Somewhere around that time. Then gradually the top's fallen off.
---
Would it have had wooden sails on?
Well I've no idea. I never actually saw it with the sails on. The top was beginning to drop off when I first saw it.
---
Were there any mills in Terrington or round about, or was that the only one?
No … I suppose a lot of the farmers would have their own mills. You know – grinders. I mean, they'd got to the stage where they all had petrol engines to drive the machinery.
---
I noticed on the Ordnance Survey Map that the hill opposite Rose Cottage Farm, when you come back up the other side into the village, that's called Mill Hill. I wonder if there used to be a mill there?
I wouldn't know about that, no.
---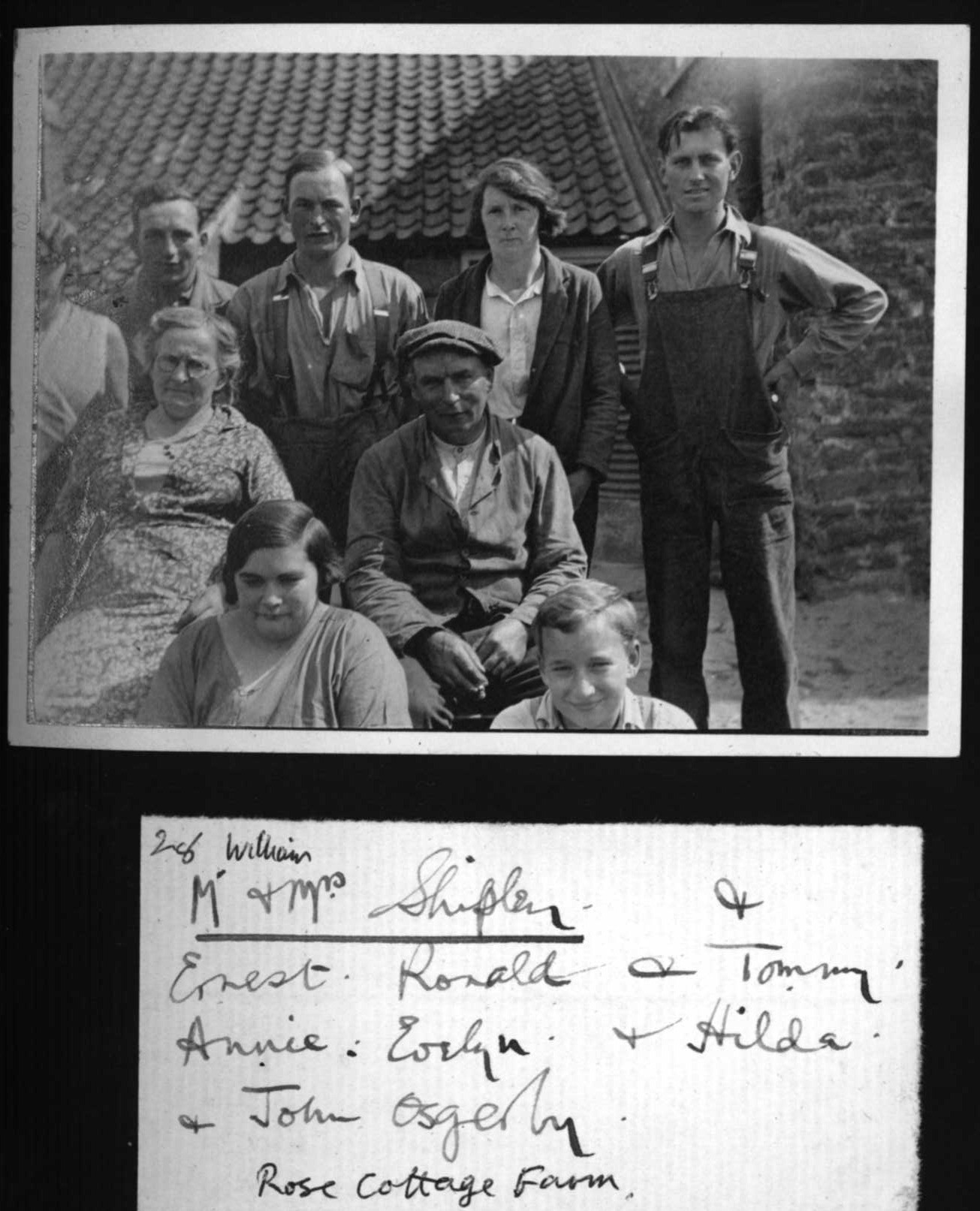 So going back to the photograph, then. Can you actually remember the day that was taken?
Yes, I remember the day it was taken. I remember father wasn't very pleased because it was harvest and they were busy in the harvest field and it was all being done by horses as well.
---
So it will have been about this time of year, then?
Well it was harvest – August time. Mr Wimbush came with his camera set-up and wanted everybody assembled and they had to come out of the harvest field. It wasn't very easy – you couldn't just leave it, same as leaving a tractor. The horses were to unyoke and he wasn't very pleased. And then he had to come back again because he made a mess of the first one.
---
Did he? How did he do that?
Well, he'd got the camera to one side. Same as he'd done there, you see. Then next time he came and did the same thing! He just accepted it – he'd got everybody on even though they were just in half measures.
---
Was his camera mounted on a tripod?
It was on a tripod, yes – one of the old fashioned ones where he put his head under the cover (laughs).
---
And did he ask you to pose for the shot or did he say stand normally or did he say don't smile or?
No, I don't think he said anything, we just stood there. Everybody's looking grim, aren't they.
---
Yes, I was going to say, on the ones we took recently, most people smiled!
No, I think …. It was just a case, it was sort of serious! (laughs)
---
You don't look as if you're flustered, as if you've just coming out of the fields. You all look quite calm, in a way. Who are all these other people on here, then?
There's my mother and that's my eldest brother. That was the eldest sister, and the other brother and another sister. That was a lad who was working for us. His father was the head chauffeur at Wiganthorpe and that was his brother. John Osgodby.
---
And did they live at Wiganthorpe, these two?
He lived in with us, at the farm, and he was on holiday from school and just helping out.
---
Oh right, right.
Dad hadn't had time to take his cap off!
---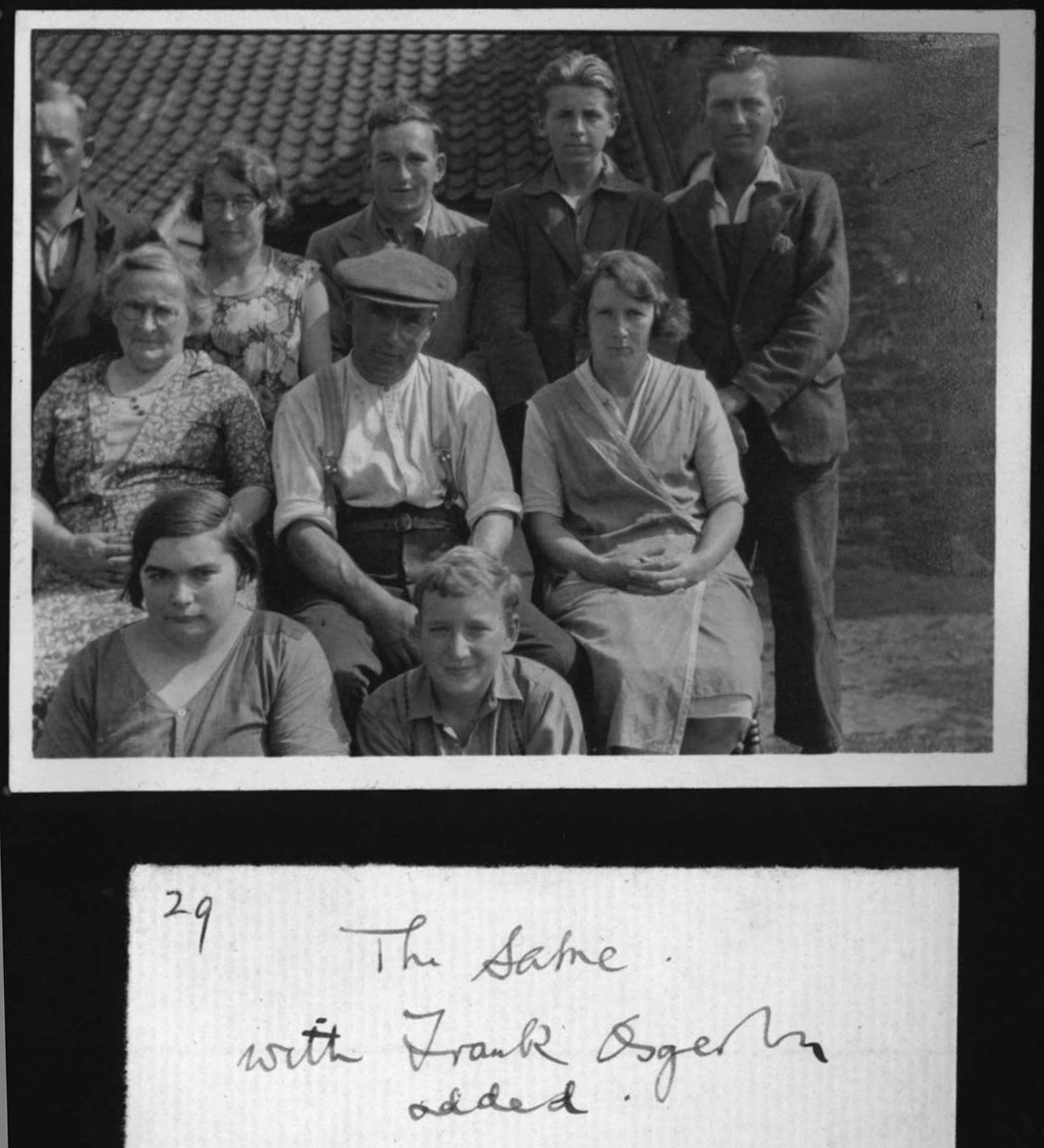 And there's this one. Very similar, isn't it.
Set in a different… Cut my other sister off.
---
So your other two sisters aren't in this one.
Joy's mother's not in this one, no.
---
So you say this chap here was a chauffeur at Wiganthorpe?
His father was the head chauffeur at Wiganthorpe, yes. Mr Osgodby.
---
So the people that lived at Wiganthorpe had a car?
Just the …. The people in the Hall. Yes, they had full a staff. They had a terrific staff.
---
Did you have any animals on the farm then, or was it just an arable farm?
Well, a general run, as most farms were then. We had a bit of everything. Cattle, sheep, pigs, and poultry. Just kept a bit of everything.
---
And how did you go on taking them to market, then? Did they go to Malton?
Well there was Mr Craven in Terrington with a cattle wagon and that's how they used to do it then. When we were at Stittenham they used to walk 'em to Malton market.
---
Did they? Quite a walk!
Well most people did in those days until the early '30s when quite a few of the people started buying transport. That's how they got them to market then, but prior to that it was a case of walking. Yes, quite long way!
---
What jobs did you do on the farm?
I didn't. When I left school, no, I didn't want to work on the farm. I was not very keen on horses. So I went to work at the garage at Sheriff Hutton.
---
Which one was that, then? Beaumonts?
Yes, well it was Kirkbys in those days. Well he was more into agriculture at well, in those days. Did a lot of contract work on the farms – ploughing, cultivating, supplying tractors, and he had a thrashing machine as well with a steam engine. During the winter time. Then when the war started in 1939, I'd been there for a few years and was quite experienced, and I was sort of a reserve occupation really. I needn't have gone into the services, but I did.
---
So you left the area during the war? You went away?
Well in '38, well by that time Lord Holden had left Wiganthorpe and Colonel Withers bought the Hall. Father wasn't very happy with the situation and so he decided we'd look round for another farm and he settled on Mount Pleasant Farm at Bossall and we moved there in 1938. But after I left school I moved – I was working in Sheriff Hutton and eventually during the week I lodged in the village, in Sheriff Hutton, and went home for the weekends.
---
Right. How did you get home? On a bike?
Bicycle, yes.
---
Which way did you go? Along the main road from Terrington Bank?
Yes, I rode it once all the way to the top – only once!
---
So what did your brothers do, then? Stayed on the farm?
They stayed on the farm, yes.
---
Did any of your brothers or sisters stay in Terrington or did everybody move to Bossall?
No, everybody moved to Bossall, yes.
---
Oh, so you lost all contact with the village then?
Yes, more or less, and then later on my sister married and they moved to Ganthorpe so …
---
Joy's mum?
Joy's mum, yes. So we spent quite a lot of time there.
---
Did you go to the village school in Terrington?
I did, yes. Yes. The first three or four years, the headmaster was Mr Kirkbride.
---
What was he like?
(laughs) Very strict. If you pleased him, you got a Fox's Glacier Mint! If you didn't, you got six of the best! Aye, he had a desk with about a dozen bamboo canes, eighteen inch canes, inside the desk. If you did anything wrong to displease him, you would come out and he used to get hold of your wrist and WOOOSH. He was a big man!
---
So that was a fairly regular occurrence then?
It was very often, yes. And if two or three had misbehaved he had to contend with all of them. By the time he'd given them all about six strokes he was …. He'd had enough!
---
Did you make any particular friends while you were at school?
Well my best friends were the Head Gardener's children at Wiganthorpe.
---
Did they go to Terrington School as well?
They went to Terrington School, yes. They had to walk all the way down, through the wood, past the lake.
---
And did you meet them at the bottom of the hill and walk up?
Yes, I used to meet them at the bottom and used to walk home.
---
So they'd be about the same age as you, then?
Well there were three of them actually. The eldest one was just a bit older than me. They had a sister who was the same age as me and the other brother was just a bit younger. And then they had a younger step brother. On summer nights I used to go through up to Wiganthorpe to play with them and we used to hang about … the father often used to go round his gardens. Probably preparing work for the following day, and we used to tag along and go with him. Go through all the greenhouses. It was great to go through all the different flowers and plants through the vines, peaches. It was a marvellous garden.
---
There was a pond at the top as well, wasn't there?
Yes.
---
I think that's still there. An ice house. Where they got the ice from..
Yes. I have a book on it somewhere. I used to go there every morning, actually. My father got the contract to supply them with the milk and all dairy produce and I got roped in to help carry the milk before I went to school and I used to go through the wood and up into the Hall. Go through the main back entrance into the Hall and you were into a big long corridor, a wide corridor with a glass roof and at the right hand side was the garden room where probably, two or three mornings in the week, the Head Gardener would be there with two or three of his men, preparing all the plants and flowers for the Hall. Some marvellous plants there.
---
And was the Hall much as it is now? Because someone was telling me that only part of it remains?
There's only part of it now.
---
Was it bigger in those days?
I think it, was in the '50s they knocked the main front part of the Hall down. The front part of the Hall was built by John Carr, the York architect, and all that part was knocked down.
---
The woods at the back of the Hall, that you walked through, were they much as they are now or have they changed?
Well, as you walked through the wood and then we came to this … well, it was a marvellous walk actually. As you walk through the wood, the first lake you came to, there's the big lake at the bottom, then half way up the woods there was what they called the Swiss Cottage Lake, which was just a small lake on the side of the park and the wood and a little Swiss chalet built on the side out of the logs and that was down in the valley. Then further along, as you got opposite the Hall, there was … well I don't know whether it had been left originally, or the wood had been cleared but there was a wide gap in the wood, right the way up, so that anybody sitting in the Hall could see right the way through the wood and see into the distance, across onto the moors. Then a bit further round you went, there was the side of the gardens, the rose gardens, there was another lake in there, a small one. They used to have a lot of foreign ducks and that kind of thing there. And then a bit further on you came to the Swan lake. That's the one that's still there now.
---
So there were a few different lakes, then?
Yes, and they all sort of fed from one down to the other. Then as you got past the Swan lake you came up into the, past the lake onto the drive and the courtyards, as they were then. The first one where there was the coal yard and they used to have a diesel engine that generated electricity and one or two more, and the cart horse used to be living in there. Then in the next courtyard there was the hunters, one or two horses there, and the laundry. In the next yard, one connected to the other, there was the garages and then you were into the Hall then.
---
That must have been one of the few houses around with electricity, was it?
Well the electricity would supply the Hall and the four cottages.
---
I would think that maybe most of Terrington didn't have electricity?
Oh no, no. This was …. As soon as the supply came into the village, they got a supply down there into the Hall.
---
Did you have electricity at your farm?
Not then, no.
---
Not while you lived there?
No, it was all paraffin lamps.
---
So have you been back to Terrington recently? Do you ever go up to your farm?
Oh yes, we often go. Well I'm limited now, but it's a case of if my son comes and we go out for a ride on the weekends, we very often end up going through Terrington. We've been down …. Well, probably about ten years ago I parked the car in Terrington village and I walked down the road to Rose Cottage and then I went and walked across to – what do they call the farm, where Goodwills are now – and then onto the Coneysthorpe road and back into Terrington.
---
If you carry on through Rose Cottage Farm and over the hill, there's an old barn over there that's almost derelict. You go over the hill, through a little bit of a wood and you come out the other side, and on the right there's….
Oh, yes, that fold yard. Yes.
---
What did that used to be?
Well it was just an extra yard. A fold yard.
---
Was that part of your farm?
Yes. It wasn't often used. Two or three times I can remember them keeping cattle there, but …. When we first went to Rose Cottage they rebuilt all the farmyard. The actual fold yard was in front of the house. It was an open fold yard and there was a big barn, stone built barn, and it was all in front of the house. You could look out of the room windows and see the cattle in the fold yard. They pulled it all down and used all the stone and rebuilt all the buildings at the back.
---
That was while you were there?
They started that as soon as we went there, yes.
---
So who did that work, then?
Well Goodwills were the bricklayers and Goodricks the joiners.
---
A local effort! Did they…there's a quarry in that wood over the back of Rose Cottage Farm, isn't there?
No, they didn't buy any more stone at all. It was all used from the buildings that were knocked down. There was a stable on the end of the house and all the yard round, the stone walls round it and the big stone barn and there was sufficient stone to build all the new buildings without buying any more.
---
Do you remember anything about the village itself? Any of the shops, or any of the people?
Well I remember the main shop was the Co-op stores. The manager were Mr Bedell and then there was another little shop in the centre of the village where the shop is now. The lady there used to sell cigarettes and sweets. Oh, there was another one up at the top of the village. Mrs Rhodes. She used to do the same – she used to sell sweets and cigarettes.
---
So there were three shops in the village?
Well, the Co-op was the only one for groceries.
---
Was the petrol station open then?
Yes. Goodwills at the bottom, yes aye, that was open. And the pub was…. [RECORDING STOPS HERE]
---